The archaeological mission working in the antiquities area of ​​the Egyptian governorate of Dakahlia discovered 110 tombs dating from three different phases of ancient Egyptian civilizations.
The matter is related to the civilization of Lower Egypt, known as "Bhutto 1 and 2," and the Naqada III civilization, and the second transition era, known as the "Hyksos" period, during archaeological excavations in the Kom al-Khalijan area in the Dakahlia Governorate.
The Secretary General of the Supreme Council of Antiquities, Mustafa Waziri, indicated that this discovery is an important historical and archaeological addition to the site.
And 68 of the tombs that were found, dating back to the stage of the civilization of Lower Egypt, and five tombs from the era of Naqada III and 37 of them from the era of the Hyksos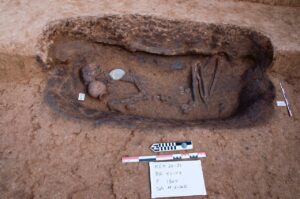 Mustafa Waziri said that excavations are continuing to reveal more secrets of this region.
Ayman Ashmawy, head of the Egyptian Antiquities Sector at the Supreme Council of Antiquities, said that the excavated tombs are oval-shaped pits cut in the sandy island of the region.
According to the same speaker, people were buried inside it in a squatting position; Most of the bodies were lying on the left side, with their heads facing west.
It is reported that a burial of a baby was discovered inside a pottery vessel from the Poto II period, with a small spherical pottery vessel placed with it.