The Association of Banks in Lebanon (ABL) had addressed late on Thursday a letter to Central Bank Governor Riad Salameh whereby it informed him about its inability to provide any cash in foreign currency, the letter says.
The ABL letter, seen by Sawt Beirut International on Friday, had asked Salameh not to rush into issuing any circular compelling banks to provide cash withdrawals in foreign currency.
"The banks' liquidity in foreign currency (…) is still negative by more than $1 billion, as revealed by Central Bank statistics by the end of March 2021," the letter said, noting that "this was clearly confirmed by the latest World Bank report on Lebanon, by all global financial institutions and by international rating agencies."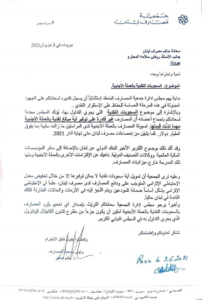 The Central Council of Banque du Liban (BDL) held an exceptional session on Friday under the chairmanship of Salameh, during which it was unanimously agreed to compel banks to pay $400 (fresh dollars) in addition to the equivalent value in Lebanese pounds for holders of accounts older than October 2019.
Dollars transferred to Lebanon in more recent months, known as "fresh dollars", are held in new accounts and not subject to withdrawal restrictions imposed by the Central Bank.
Lebanese banks have mostly locked depositors out of their dollar accounts and blocked transfers abroad. Under a BDL circular last year, depositors were allowed to withdraw dollars, with the funds paid in the local currency at a rate of 3,900 pounds to the dollar.
That is only about a third of the value of dollars on the black market, but has been the only way many Lebanese have been able to access their funds.