Hasan vaccinated "legally"and heavy turnout to"AstraZeneca Marathon"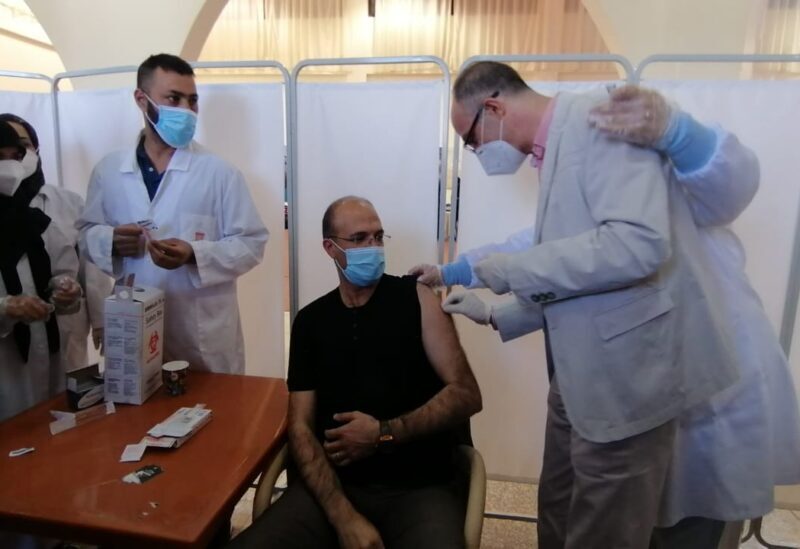 the Minister of Public Health Hamad Hassan said after receiving  AstraZeneca vaccine at the center of the municipalities of Baalbek Union: "legally,  like any citizen got the vaccine according to the age group. "
The Marathon vaccination process was launched this Saturday morning in various Lebanese regions. The Ministry of Public Health announced via "Twitter" that there was a very high turnout in the regions since the early morning hours for "AstraZenka" centers.
This day aims at vaccinating large numbers of citizens who are among the groups that can receive this type of vaccination.
At the same time, the director of the Rafic Hariri Hospital, Firas Abyad, tweeted: "Things are going smoothly at the AstraZeneca vaccination center at the Rafic Hariri Hospital. Research indicates that receiving the vaccine completely can be 90% effective in reducing the need for hospitalization in the event of exposure to the most contagious mutations discovered in India.
The head of the National Corona Vaccine Campaign, Abdul Rahman Al-Barzi, explained to Al-Nahar that the people concerned with the intensive vaccination campaign,  are those who are among the groups that are allowed to receive the AstraZeneca vaccine, and they are, accordingly, over the age of 30 years up to 65, who do not suffer any health problems or  conditions that prevent receiving the vaccine, such as strokes.
The aim behind this is to vaccinate the largest possible number of people and encourage them to receive the AstraZenka vaccine to ensure the highest possible social immunity. This step may be a catalyst to encourage more citizens to receive the vaccine at a later time and facilitate access to it. Although, the relationship between the AstraZenka vaccine and the occurrence of blood clots had raised many fears, it was noticed that in the last two weeks that the number of those who applied to receive the vaccine had increased, since the probability of stroke is considered very little.