Berri discusses general situation with KSA Ambassador, meets Caretaker National Defense Minister, Nepalese army chief, Romanian Ambassador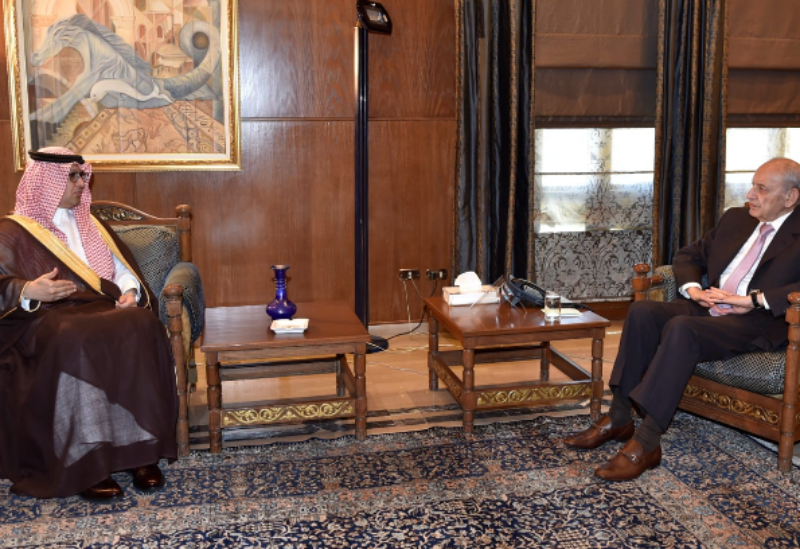 Parliament Speaker Nabih Berri received the Nepalese Army Commander, General Prabhu Ram Sharma, at the Second Presidency in Ain al-Tineh on Tuesday, who offered his Nepalese counterpart's congratulations on his re-election as House Speaker for a new term.
General Sharma affirmed the Nepalese Parliament's readiness to strengthen legislative cooperation with the Lebanese Parliament.
Speaker Berri also welcomed in Ain al-Tineh the Romanian Ambassador to Lebanon Radu Catalin Mardare, with whom he discussed the general situation and the bilateral relations between the two countries.
Separately, Berri received Saudi Ambassador to Lebanon Walid Al-Bukhari, who congratulated the Speaker on his re-election as Parliament Speaker for a new term.
Discussions during the meeting reportedly touched on the current general situation and the latest developments in Lebanon and the region.
This afternoon, Speaker Berri met Caretaker Minister of National Defense Maurice Sleem, over the latest political developments and the general situation in the country, especially the security one.
On the other hand, Berri received a congratulatory cable from the head of the Order of the Knights of Malta Albert Freiherr von Boeselager, on the occasion of his re-election as House Speaker.