Embassy of India in Beirut organizes seminar celebrating country's 75th independence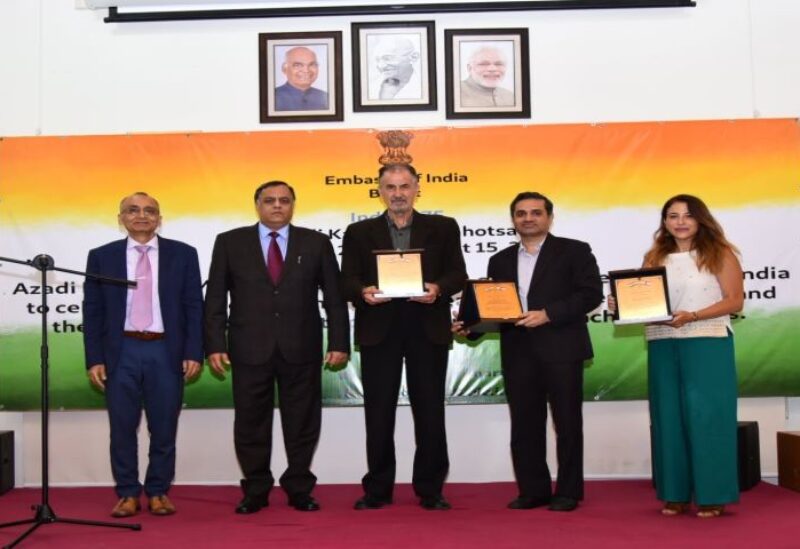 As part of Azadi Ka Amrit Mahotsav, the Embassy of India, Beirut organized a seminar under the theme, "[email protected]: A Glorious History of People, Culture & Achievements", on the evening of August 15, 2021, marking India's 75th independence.
Guest Speakers Dr. Digambar Patra, a prominent member of Indian Diaspora and Professor at American University of Beirut (AUB), Prof. Bassam Lahoud, Professor at Lebanese American University (LAU) and ICCR-sponsored Fellowship Professor in 2017, and Ms. Lynn Tabet, a friend of India, spoke on the occasion about achievements of India in 75 years of its Independence and about their experience in India, Indian culture, cuisine, languages and diversity of India.
Amal Mansour, Advisor to Minister of Culture, a number of local dignitaries & members of the Diaspora attended the event.
Indian Ambassador, Dr. Suhel Ajaz Khan, also bestowed the speakers with a shield of appreciation.
Sara Chreim, the First Winner of Bharat Ko Janiye Quiz 2020-21, was also honored with Gold Medal and a Certificate of participation.