FAO organizes series of trainings on reducing child labor in agriculture in Lebanon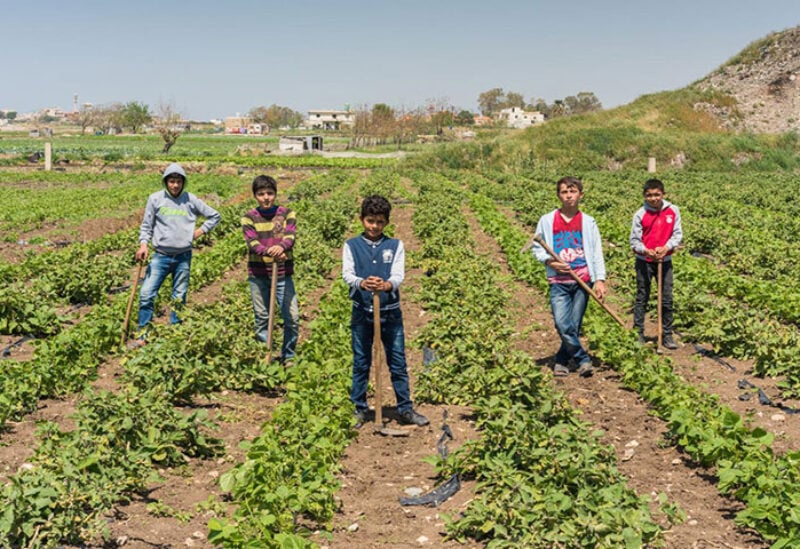 The year 2021 has been declared the International Year for the Elimination of Child Labour by the United Nations General Assembly, in light of the UN Sustainable Development Goal 8.7 aiming at ending child labour in all its forms by 2025. In this context, the Food and Agriculture Organization of the UN (FAO) is launching in 2021 numerous activities worldwide to upscale action of agricultural stakeholders in the elimination of child labour in agriculture.
In Lebanon, the Food Security and Agriculture Sector under the Lebanon Crisis Response Plan (LCRP), co-led by the Food and Agriculture Organization (FAO), the World Food Programme (WFP) and the Ministry of Agriculture (MoA), organized a series of pilot trainings on "reducing child labour in agriculture in humanitarian/food insecure contexts" in March and April 2021, with the technical support of the Inclusive Rural Transformation and Gender Equity Division (ESP) in FAO Headquarters in Rome.
A total of 100 participants attended the online Regional (30 and 31 March) and National (20 April) trainings with interactive activities through their engagement and active participation. They were members of the Food Security and Agriculture, the Child Protection Working Group and the Livelihoods Sectors of the LCRP, in addition to MoA, UNICEF and ILO Agencies and NGOs working in different areas of food security, agriculture, nutrition, livelihoods, and child protection.  In addition, 25 participants from these trainings conducted a Training of Trainers (ToT) to further strengthen their capacity to address and integrate child labor in agriculture within their programmes and interventions for food security and livelihoods.
The trainings strengthened practitioners' capacities to communicate efficiently on, prevent and reduce child labour in agriculture, with the ultimate objective of improving rural livelihoods and rebuilding sustainable and secure food and agricultural systems in Lebanon.
These efforts build on previous work of the FAO on reducing child labour in agriculture in Lebanon, including the published research and study conducted with UNICEF in 2019 on: "Child Labor In Agriculture: The Demand Side" and a Practitioner's Guide developed with the ILO in 2017 on "Child Labour in Agriculture: A guide for Practitioners".