Hochstein briefs Aoun on his proposals, Israeli contacts' outcome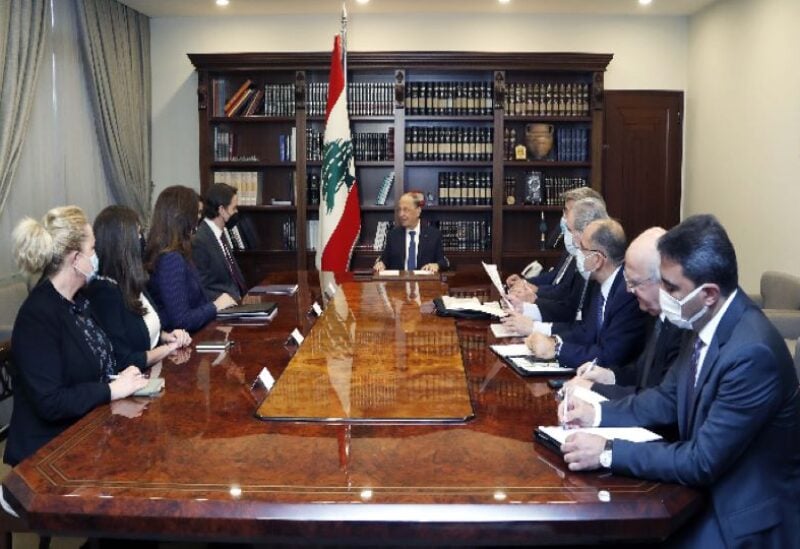 President of the Republic, General Michel Aoun, met the US mediator in the indirect negotiations to demarcate the maritime borders between Lebanon and Israel, Amos Hochstein, this afternoon at Baabda Palace.
US Ambassador to Lebanon, Dorothy Shea, and the assistant team of Ambassador Hochstein also attended the meeting.
On the Lebanese side, Foreign Minister, Abdullah Bou Habib, Energy Minister, Walid Fayyad, former Minister Salim Jreissati, Director General of the Presidency of the Republic, Dr. Antoine Choucair, and advisors Mr. Rafic Chelala and Osama Khashab attended.
During the meeting, Ambassador Hochstein briefed President Aoun on the results of the contacts he held in Israel on the issue of demarcating the southern maritime borders. Ambassador Hochstein also presented suggestions that will be studied based on the desire to reach solutions to this issue and communications with the US side will continue for this purpose.
For his part, the President assured Ambassador Hochstein of Lebanon's readiness to discuss the points raised, which will be completed later.
In addition, the role played by the United States to help overcome the obstacles facing the import of gas and electricity from Egypt, Jordan and Syria were tackled also.