Jumblatt cautions against handing country over to Syrian-Iranian axis, wonders about absence of any talk about reform, financing card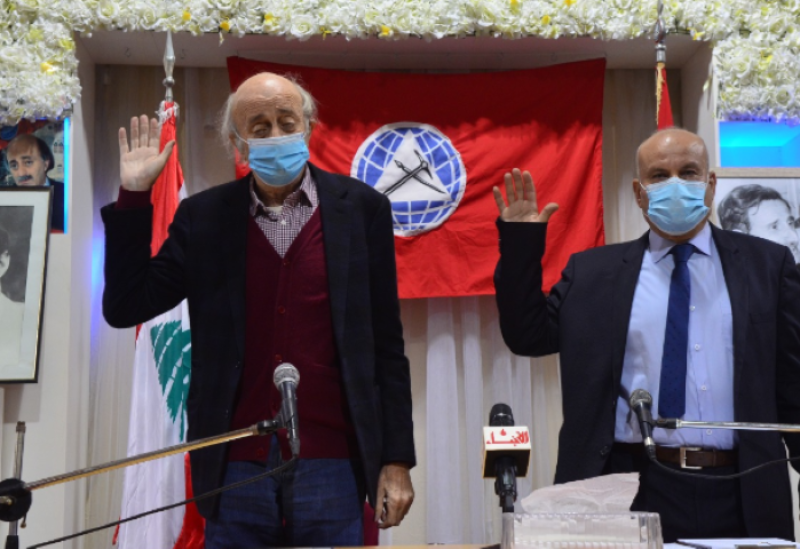 Progressive Socialist Party Chief, Walid Jumblatt, warned against "falling into the error of handing over the country to the Syrian-Iranian axis," and against "the consequences of the equation proposed to convene the cabinet in exchange for eliminating the investigation into the Beirut Port explosion."
On another note, Jumblatt emphasized the priority of implementing reform, addressing the electricity dossier and launching the financing card, wondering why there is no talk lately about these dire issues of extreme importance to the citizen's livelihood.
Jumblatt's words came during his meeting with partisans in a follow-up encounter to the Party's 48th General Conference held yesterday in the region of Iqlim al-Kharroub.
Touching on the stalled cabinet sessions, the PSP Chief noted that the government was welcomed following a year's anticipation for its formation, adding that there is still hope that it will accomplish some of the items on its work agenda. However, he wondered about the sudden absence of any talk about reforms amidst the artificial and destructive obstacles that have been placed along the government's path.
Referring to the electricity dossier, he said: "Suddenly, there is no talk about the Egyptian gas and the Jordanian electricity, after we welcomed this step as a temporary solution that may increase power supply from two or three hours to ten hours, which would be an achievement while waiting for a radical solution."