Lebanese Army spreads near Parliament, after protesters breaking the barrier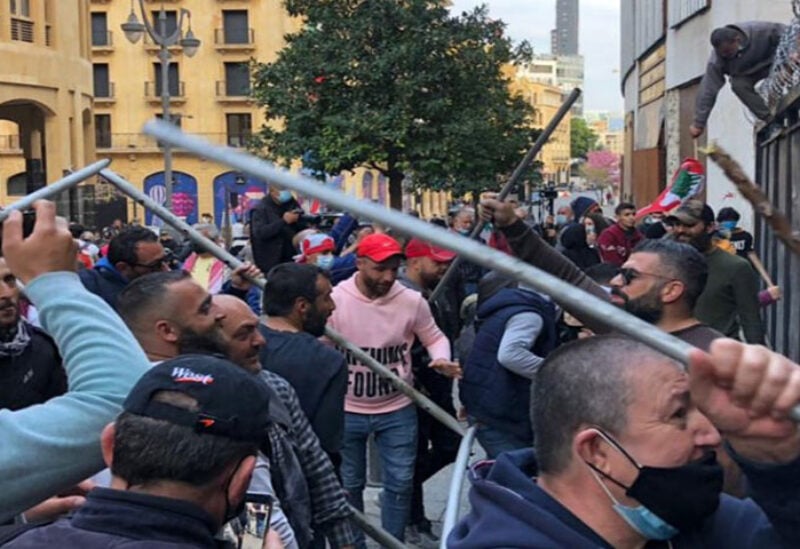 Cautious calmness returned near Parliament after a number of protesters took to the streets and clashed with security forces. Some people hurled rocks toward the barrier that blocks the road leading to the Parliament, and were met by tear gas shot by the riot police.
Members from the Lebanese army arrived near the Parliament, were protesters started chanting in support of the army. One of the officers tried to negotiate with the protesters in order to convince them to withdraw. One of the protesters was injured by the tear gas shot, and was taken to hospital.
In the evening, the iron gate that was removed by protesters was re-welded.
Hundreds of protesters gathered in Martyrs' Square in Downtown Beirut, primarily called by retired servicemen. They later marched toward the Beirut Port. Protesters demanded a transitional government, a forensic audit of the Central Bank and public sector and a transparent investigation into August's Beirut Port blast.
In Martyrs' Square, clashes with sticks and knives developed between a number of protesters. Some of them were injured and taken to the hospital.
Road blocks re-appeared across the country, as a highway leading to Sidon in the south was blocked, in addition to the highway connecting Jiyyeh to the capital and roads in Tripoli and all roads leading to Martyrs' Square in Beirut.
The Lebanese pound earlier on Saturday sharply declined against the US dollar, trading for as high as LL12,400, further decreasing the purchasing power of people and causing prices to skyrocket even more.