The Revolutionaries from Martyr square: We return to the arenas of honor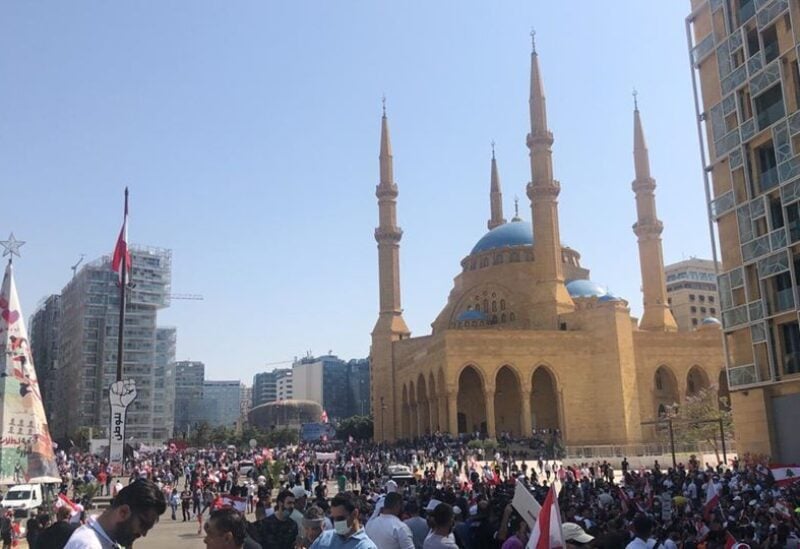 The Lebanese are flocking to Martyrs' Square to raise their voice against the difficult living conditions and demand the formation of a government of independents quickly.
While the tents will be re-erected in the center of the capital, retired Brigadier General George Nader said in a televised interview: Today's demonstration in Martyrs's Square comes as a continuation of yesterday's demonstration. The revolution will be revived in all squares. We have a basic position requiring the formation of a transitional government from outside the parties, to work on rescuing the country from  working  bankruptcy and to hold Parliamentary elections to reconfigure the authority
Meanwhile a statement was issued by the protesters in Martyrs' Square: It is the rule of the corrupted t by all standards and the rule of organized militias that have violated the state and are still eluding and defrauding the Arab and international community in order to reproduce its authority and will not rule after today, and here we have returned again to the arenas of honor that we have never left
We demand satellite images and not deliver them means that it is a crime against humanity. We do not bet on our steadfastness, and we will remain behind you to reach the truth, justice, and the blood of our brothers is more important than your chairs.
Your corruption and your dependence on the outside led us to this hell, and we saw the pain of Beirut, and "we feel disgusted with empty talk and false promises" and we will take revenge on you
.