Mikati welcomes WB delegation, Energy Minister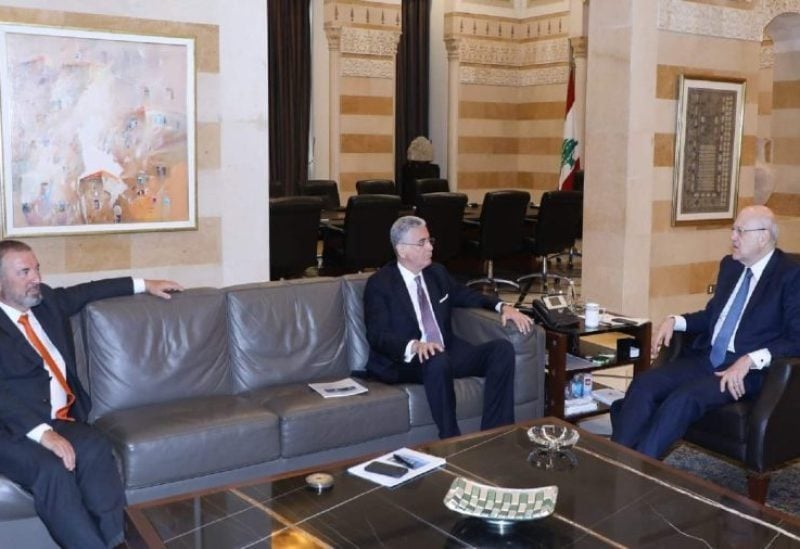 Caretaker Prime Minister, Najib Mikati, on Monday met with the World Bank's Vice President for the Middle East and North Africa, Ferid Belhaj, and the World Bank's Regional Director for the Middle East, Jean-Christophe Carré.
After the meeting, Belhaj said that the meeting touched on the relationship between the World Bank and Lebanon at the level of financing and technical cooperation.
"We had funded an important project with an amount of $300 million for social coverage, and we are in the process of financing an important sustainable agriculture project," Belhaj added.
Mikati also met with Caretaker Minister of Energy, Walid Fayyad, who mentioned an increase in power supply "once the additional quantities of Iraqi fuel arrive in Lebanon."
"We are endeavoring to increase the quantity from 80,000 tons per month, to 160,000 tons for the months of July, August and September, which leads to doubling the feeding hours; this is in addition to the electricity secured by buying fuel through the Central Bank, within the treasury advance mechanism, which leads to an increase of 3 additional hours as well," Fayyad explained.
On the discrepancy in electrical supply among different regions, Fayyad said: "I hope that the EDL will issue a transparent schedule with the exact number of hours in each region."