More than half a Billion Lira from Spinneys shoppers to the Children Cancer Center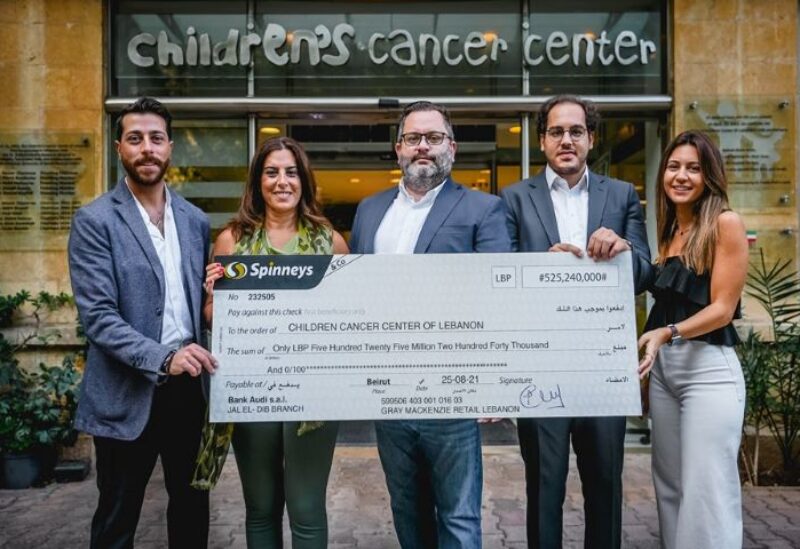 The Lebanese people have proven once again that the spirit of solidarity and love for helping can instill hope and make a difference in our society. This was demonstrated by the great participation in the #خمسة_ورا_خمسة campaign launched by Children Cancer Center at all Spinneys branches over a period of 15 days, which resulted in the donated amount of 525,240,000 Lebanese Lira.
The campaign was widely welcomed by the public who answered the donation call by contributing with at least 5,000 Lebanese pounds at the Spinneys cash register. Donators trusted that the relatively small amount will accumulate and make a difference in the lives of many the patients at CCCL and their families who are unable to afford treatments anymore amid the difficult economic conditions in the country. This campaign also had the support of social media influencers who came together to get the message across to as many people as possible and urge them to donate so that patients can continue their treatment and live a dignified life.
The director of the center, Mrs. Hana Al-Shaar Shuaib, received the donation and thanked all those responsible for the success of this campaign, saying: "All challenges will not deter us from pursuing our humanitarian mission to save the lives of children and adolescents with cancer and provide them with the support and needs vital to face and overcome the disease. Our determination is based on white hands and benevolent souls, as well as your constant support that revives hope within us and brings back a smile back to the patients and their families". She concluded by saying: "We would also like to thank Spinneys for their continuous support through all the campaigns conducted over the years and to date".
On behalf of Spinneys, The Chief Marketing Officer, Mr. Ralph Kahi said: "We renew our standing with CCCL by launching more humanitarian initiatives in the near future to face all difficulties together and work hand in hand for a better tomorrow. Children and adolescents deserve to live a life worthy of hope and happiness, continue to pursue their treatment to overcome the disease and make their dreams come true."
This campaign is part of the ongoing Corporate Social Responsibility initiatives by Spinneys, which aims primarily to support our community, especially during these difficult times that Lebanon is going through.