Patriarch Rahi meets with Abbot Najm, receives Easter wellwishing calls from Berri, Diab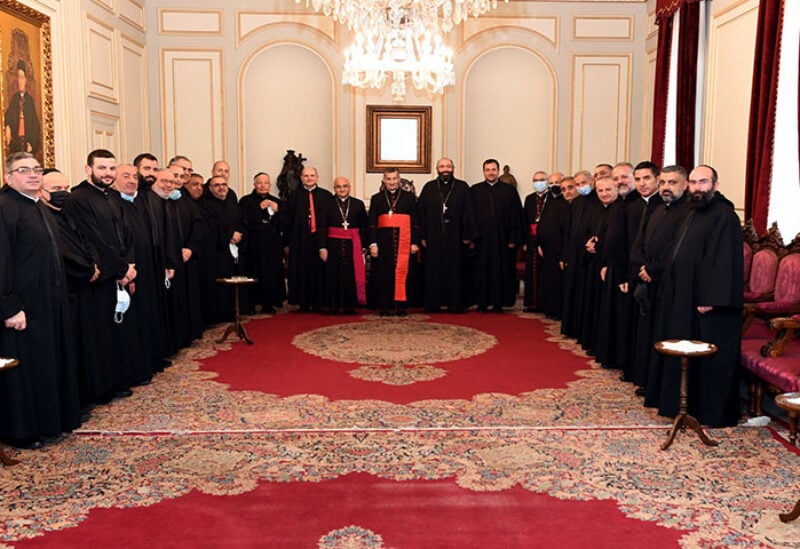 Maronite Patriarch, Cardinal Bechara Boutros al-Rahi, received in Bkirki this afternoon, Abbot Pierre Najm at the head of a delegation from the Maronite Monastic Order, following his appointment as its general president.
In his delivered word at the beginning of the meeting, Najm said that the visit comes to extend to the Patriarch well-wishes on the glorious Easter occasion, praying to the Lord Almighty "to keep His Beatitude's prophetic voice rising against every injustice, as he strives to preserve human dignity and restore to our great Lebanon the splendor of beginnings, so that our country remains a testimony of coexistence and an oasis of civilization and dialogue."
Najm expressed full support and devotion to the Patriarch's role and initiative, placing the Monastic Order's efforts at the service of the Church, and the service of Lebanon and the Lebanese in this difficult period in the country's history. "We declare that God is present, and He is stronger than all evil and injustice," he affirmed.
On a different note, the Patriarch continued to receive today congratulatory greetings and calls on the Easter occasion, most prominently from House Speaker Nabih Berri, during which both men touched on the government formation process and the efforts made in this regard.
Al-Rahi also received calls from Caretaker Prime Minister Hassan Diab; former PM Tammam Salam; Sheikh Aql of the Druze Community Naim Hasan; former Deputy PM Issam Fares; MPs Bahiya Hariri, Anwar El-Khalil, Ossama Saad, and Strida Geagea; Egyptian Ambassador Yasser Alawi; former Ministers Walid Daouk, Nicolas Tueni and Ziad Baroud; Director General of the Internal Security Forces, Major General Imad Othman; and the Head of the Alawite Islamic Council, Sheikh Mohammad Asfour.