A Lebanese Armed Forces unit raided on Wednesday several houses in the Baalbek town of Brital in a bid to arrest some men suspected of being involved in family scuffles and opening fire leaving two children injured, the Army Command – Directorate of Orientation said in a statement on Thursday.
In one of the houses, the LAF seized around 11 kilograms of raw materials used in manufacturing drugs, in addition to bags containing unknown substances weighing 100 kg, and a machine for Captagon manufacturing.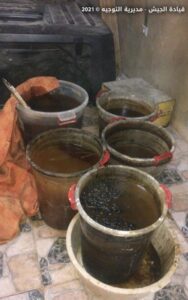 The seized materials were handed over to the competent authorities and the case is currently under follow-up in order to arrest the involved.
On May 12, the Lebanese army raided a farm in the Baalbek town of Boudai, which belongs to a wanted person, and seized a drug factory containing equipment and machinery used in the manufacturing process, the Army Command – Directorate of Orientation said in a statement.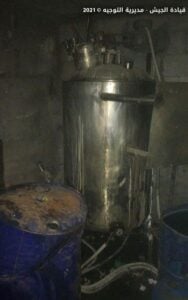 The army also seized cannabis weighing 567 kg and two wireless devices, the statement said, identifying the wanted person by his initials as Gh.Sh.
Lebanon has intensified its security crackdown on drug dealers and factories – particularly in the city of Baalbek which is believed to harbor the most dangerous wanted people – after Saudi Arabia imposed a ban on Lebanese imports.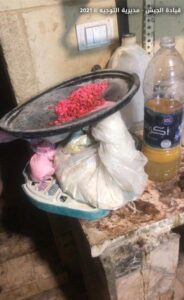 On April 23, caretaker interior minister Mohamed Fehmy said Lebanon is ready to cooperate with all states to fight drug smuggling after Saudi Arabia banned the import and transit of Lebanese fruit and vegetables due to the illicit trade.
The ban was announced after Saudi customs authorities foiled an attempt to smuggle in more than 5.3 million Captagon pills, a type of amphetamine, hidden in a pomegranate shipment from Lebanon, the kingdom's SPA news agency reported.