A patrol from the Lebanese Armed Forces' Intelligence Directorate arrested on Saturday two people over drug abuse and trafficking in the two regions of Sabtieh and Nabaa, the National News Agency reported.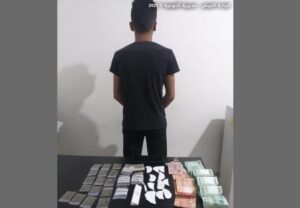 The two men were identified by their initials as J.K. (Syrian) and M.A. (Palestinian), the agency said, adding that drugs and cannabis as well as a sum of money were caught in their possession.
Investigations were launched with the detainees under the supervision of the competent judiciary.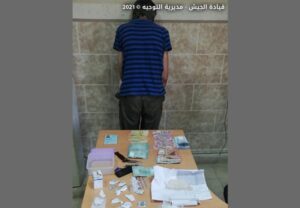 Lebanon has scaled up measures to arrest drug dealers and thwart smuggled drug shipments in the wake of a Saudi ban on Lebanese fruits and vegetables after the discovery of 5.3 million Captagon pills, a type of amphetamine, hidden in pomegranate shipments from Lebanon.
On Thursday, the Lebanese customs thwarted an attempt to smuggle large quantities of cannabis into Egypt, local media reported, adding that they were packed inside a scrap cargo on board a commercial vessel that was about to sail from the port of Sidon.
On May 7, caretaker Minister of Interior, Mohamad Fahmy, inspected the Beirut port after paying a surprise visit to Al Masnaa border crossing where he toured the general security and customs center and inspected the shipping area where the scanners are installed.
Fahmy said Lebanon will work to combat drug smuggling to prevent further disruptions in relations with Saudi Arabia, asking "friendly countries" to help the country purchase scanners to inspect goods at at its ports and on the border with Syria.
On May 1, the caretaker Prime Minister Hassan Diab said "Lebanon refuses to be a gateway for drug smuggling to any country including Saudi Arabia."
His remarks came in reply to a question about the Saudi import ban on Lebanese produce after a shipment of Captagon pills was intercepted by the kingdom on April 23.
There was concern that the ban would spread to other Gulf states after the United Arab Emirates, Kuwait, Bahrain and Oman all issued statements in support of the Saudi decision.