Pope Francis receiving Aoun: "I will visit Lebanon to revive its hope"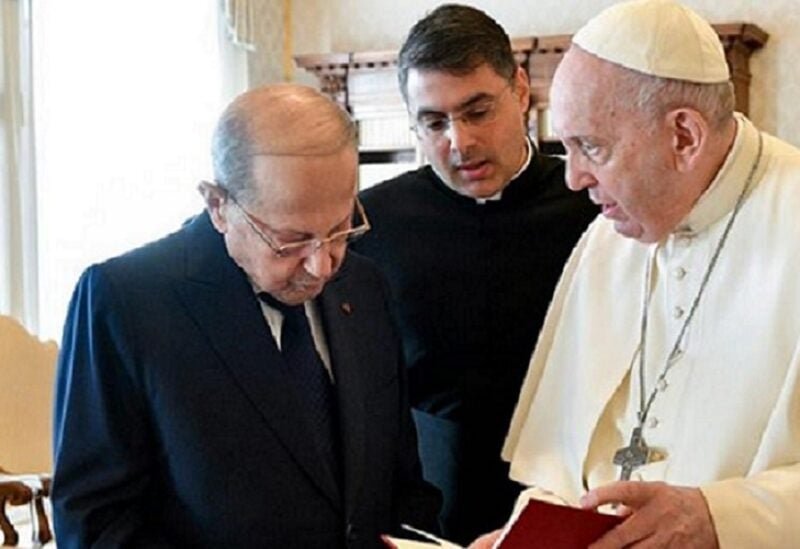 Pope Francis received President Michel Aoun at the Vatican on Monday.
Pope Francis indicated that "Lebanon has a special place in my prayers and concerns, and I will visit it to revive its hope."
For his part, President Aoun renewed the invitation to the Supreme Pontiff to visit Lebanon, pointing out that "Lebanon is going through a difficult stage, but it will inevitably defeat it through the collective will of its children."
Aoun addressed the Pope, saying: "We do not want Lebanon to pay a price for what is happening in the region, and thanks to your care and the insistence of its children to rise, it is not left alone.'
In addition, Aoun met with the Secretary of the Holy See, Cardinal Pietro Parolin, considering that "it is time for everyone to be convinced that Lebanon must return to playing its role as a bridge of convergence, and not a source for crises."
Sources told " Al-Liwaa "that the President of the Republic's visit to the Vatican, is to renew the invitation to the Pope, to visit Lebanon as soon as possible, perhaps next fall, especially if his program is busy.
As timing of the visit will be determined by the Vatican, the sources considered it an occasion to give hope and enthusiasm to the Lebanese.