President Aoun briefed by UN Special Coordinator on deliberations that accompanied the Security Council's Extension of UNIFIL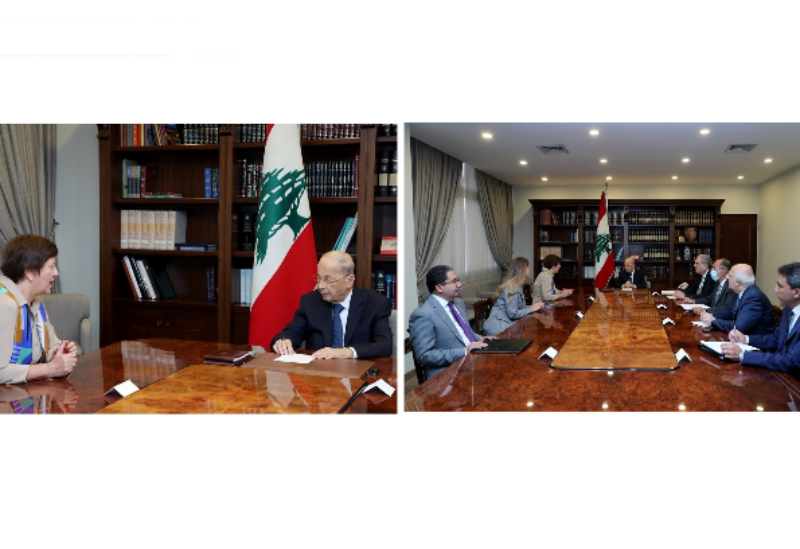 General Michel Aoun, President of the Republic, and Mrs. Joanna Wronecka, Special Coordinator for the United Nations in Lebanon, met today in Baabda Palace.
In order to ensure that Lebanon has the right to conduct gas and oil exploration in the designated fields within the exclusive economic zone, the President informed Wronecka that negotiations to demarcate the southern maritime borders are nearing their conclusion.
In addition, President Aoun indicated that communication with the American mediator, Amos Hochstein, is on-going about some technical details related to the demarcation process, expressing hope that exploration in Lebanese waters would contribute to the revival of the Lebanese economy, which witnessed a significant decline during the past years, as well as enhancing security and stability in the south.
Moreover, President Aoun reiterated Lebanon's commitment to international resolutions, especially Resolution 1701, and pointed to the importance of implementing all its components, considering that coordination between the international forces operating in the south, "UNIFIL" and the Lebanese Army is essential to ensure the success of the mission of maintaining peace and security on the borders.
President Aoun also stressed the necessity of providing appropriate climates to prevent any clash between the locals and the international soldiers.
For her part, Mrs. Wronecka briefed President Aoun about the deliberations that accompanied the extension of the UN Security Council to the international forces operating in the south at the end of last month and the support that will be provided to the Lebanese army on time.