Sheikh Akl Abi al-Muna meets caretaker culture minister, Qatari ambassador, GS's Ibrahim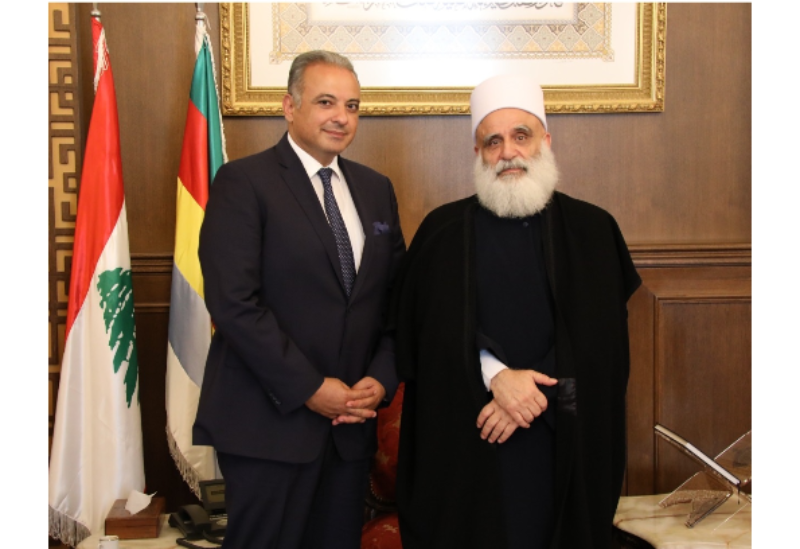 Sheikh Akl of the Unitarian Druze Community, Dr. Sami Abi Al-Muna, on Tuesday welcomed at the Druze Community House in Beirut, Caretaker Minister of Culture, Judge Mohammad Wissam Mortada.
Discussions reportedly touched on an array of current issues and matters on the local arena.
On the other hand, Sheikh Akl Abi Al-Muna received Qatari Ambassador to Lebanon, Ibrahim bin Abdulaziz Al-Sahlawi, accompanied by Counselor Mashael Al-Kuwari, with discussions reportedly touching on the current general situation in Lebanon and the region, and the means to strengthen the bilateral relations between the two countries.
Sheikh Akl welcomed the Qatari ambassador, calling for strengthening the fraternal relations between the two countries, and thanking Qatar for its permanent support for Lebanon.
Separately, Sheikh Akl Abi Al-Muna met with General Security Chief, Major General Abbas Ibrahim, with whom he discussed an array of local matters.
The visit had been an occasion during which Sheikh Akl hailed the inclusive role played by Major General Ibrahim in serving the nation and its people, as well as all the efforts made by the General Directorate of General Security.