Hezbollah's thorn, broken!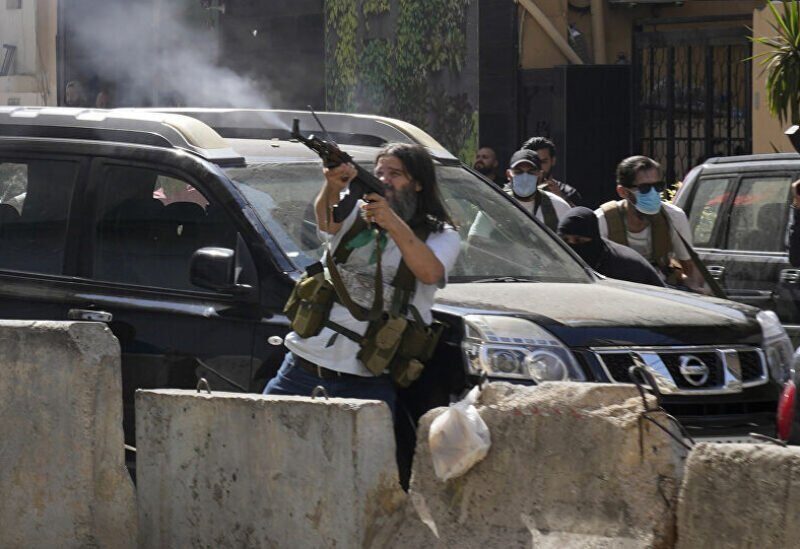 It was not in Hezbollah's accounts that the bus "Bosta" it drove through Tayouneh, will not make its way towards sedition, and Hezbollah's Secretary-General Hassan Nasrallah, was not aware that Hezbollah's prestige had faded, and that its "thorn" had been broken, because he got used to take to the street, and threaten the Lebanese without accountability. But the "strike" this time, was painful, surprising the party and its fighters.
A military expert told "Sawt Beirut International, "The element of surprise was against Hezbollah, as it was preparing to set out from Tayouneh towards the Palace of Justice, and it was hit on its own territories, something Hezbollah was not the least expecting.
The expert pointed out that the party's fighters moved in a hilarious way on the ground of confrontation, and did not confront anyone, but rather fired randomly towards the buildings inhabited by Shiite citizens, and signs of shock appeared on their faces because they did not know where the bullets were coming, and the fire sources.
The military expert was surprised of the party members' lack of experience, who are supposed to have fought wars in Syria, and gained sufficient experience, and the photos of Hezbollah's dead, indicate that they were in Syria during the battles.
He asked, "How did these people fight inside Syria? After the Tayouneh farce, questions have been risen regarding party fighters performance , as they appeared to be fighting ghosts, and they fired shots throughout the four-hour period without any fatalities from the opposing team that Hezbollah claimed to have carried out sniping operations." .
The expert pointed out that the party's leadership is dissatisfied, not with the number of dead, but with the performance of its fighters, and the blow it received "in its own home", and it is not known until now, the identity of the shooters.
"The way in which the members of the Amal movement and the party fought is ridiculous, and there are a large number of wounded who were injured by friendly fire, and we saw how the party affiliated member, bombed a house close to it instead of hitting the target," the expert continued.
The expert stressed that the Lebanese army performed its duty, and if it wasn't for its presence, the death toll would have risen among the party's and Amal's ranks, and the party's leadership should undergo an inventory and learn from what happened in Tayouneh, as it is not by force and the quantity of fighters, he can impose what he wants.