Aid trucks await entry at Rafah border crossing while Israel strikes on Gaza continue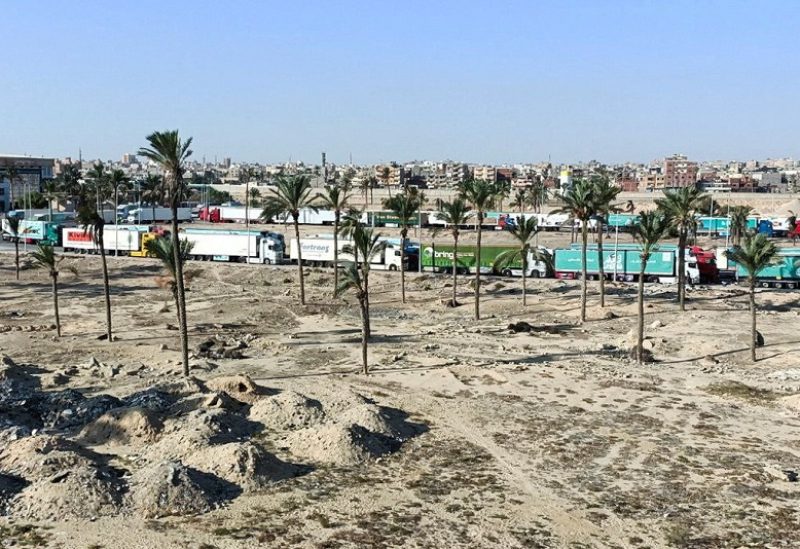 On Tuesday, Israel maintained its bombardment of Gaza through land, sea, and air, while hundreds of aid trucks were queued up at the Egyptian border. Residents and humanitarian organizations were urgently requesting water, food, and fuel for generators to alleviate the dire situation, as reported by an Al Arabiya correspondent.
Relief convoys which had been waiting in the Egyptian city of El Arish Tuesday headed towards the Rafah border crossing with the Palestinian enclave of Gaza, aid officials said.
"We have arrived at the terminal and are now waiting for the next step," said Heba Rashed, who runs the aid group Mersal.
Hundreds more lorries were headed along the coast road for the 40 kilometers (25 mile) journey to Rafah, other aid officials said.
Israel launched intense bombs on the Palestinian side of the crossing during the early hours of Tuesday morning, raising concerns about security and safety of residents in the area as well as the convoys hoping to transport the much-needed aid, according to Al Arabiya and Al Hadath sources.
At least 49 people were killed in Israel's Tuesday air strikes on Khan Yunis and Rafah in Gaza, the Palestinian health ministry said. More than 2,800 Gazans have been killed in Israeli bombardment on the overcrowded, impoverished enclave and some 10,000 others were injured, according to officials. Many more bodies have yet to be recovered from the rubble of destroyed buildings, medics in the city have said.
Israel continued to launch thousands of air strikes across Gaza as a ground invasion loomed, while Hamas militants retaliated with a barrage of rocket attacks and tensions mounted on the Israeli-Lebanese border.
All eyes are on the Rafah border crossing – Gaza's only connections to Egypt – after more than a week since Israel cut off entry to any supplies.