Argentinian minister gets broken jaw after furious bus drivers reject negotiations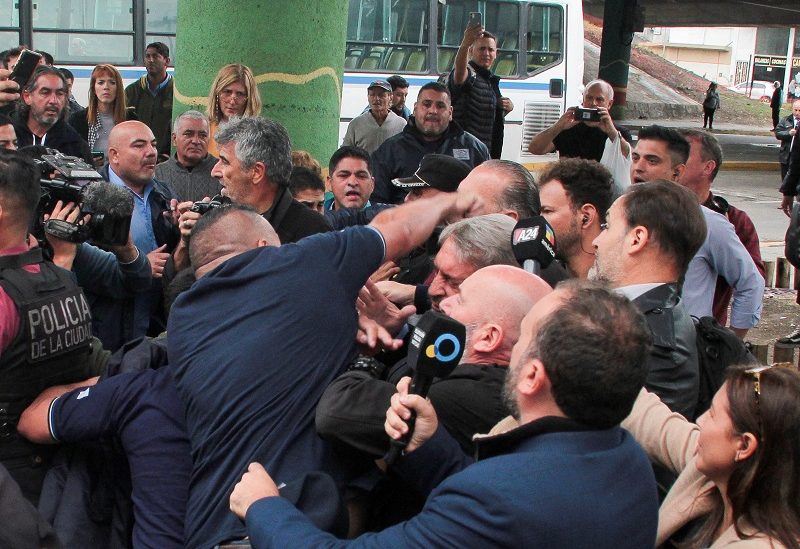 After a bus driver was shot dead by criminals, Bus drivers who were protesting in La Matanza, on the outskirts of the capital Buenos Aires, against unsafe working conditions, attacked security minister Sergio Berni as he arrived at the protest site, he was beaten, thrashed and pelted with stones.
The 61-year-old minister was seen bleeding from the face after he was rescued by police officials. He was immediately taken to a hospital. Eight police officials and three bus drivers also sustained injuries in the ensuing clashes.
The bus drivers' protest has mainly hit the services in the western parts of Greater Buenos Aires, affecting at least 14 million people. The protests erupted after the death of Daniel Barrientos, a 65-year-old bus driver. He was reportedly shot dead by two delinquents who boarded to rob passengers in the early hours of Monday.
Sergio Berni is well-known for his tough stance on crime and aggressive attitude. Upon arriving at the protest site near Avenida General Paz, Berni tried to speak with demonstrators while being accompanied by a minimal security detail in order to inform them about the investigation and convince them to end the strike. Berni reportedly told the transport workers, "We have already arrested the perpetrator," but he was met with insults and jeers instead.
The incident was live-streamed on regional television networks for straight 30 minutes. Later, Berni disclosed to nearby reporters that he had a fractured jawbone and undergone concussion therapy. The violence also involved the provincial secretary of transportation, Jorge D'Onofrio.