Beijing says testy Xi-Trudeau exchange sparked by leak to media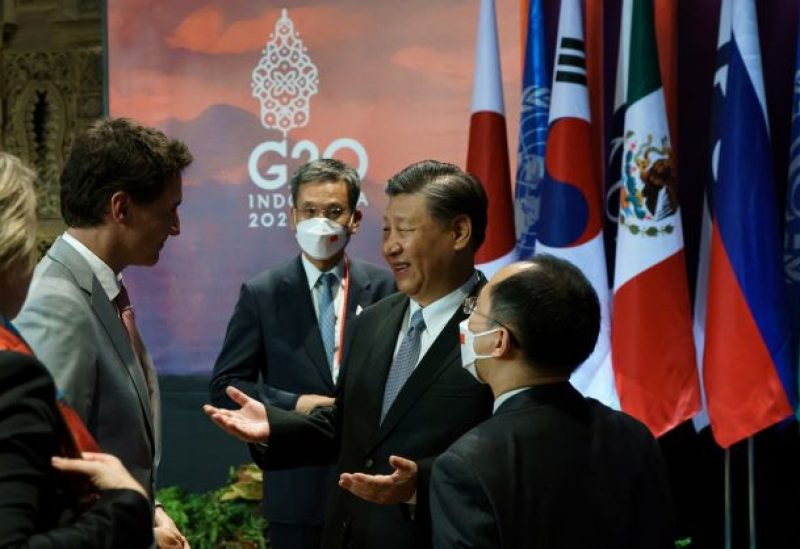 The leak of information about a chat between Chinese President Xi Jinping and Canadian Prime Minister Justin Trudeau during this week's G20 summit sparked a heated exchange, according to China's foreign ministry on Friday.
In a video that was made public by Canadian media outlets on Wednesday, Xi can be heard informing Trudeau that "everything we talked was leaked to the paper(s), that's not appropriate".
Chinese foreign ministry spokesperson Mao Ning, in response to a question on Friday, said that Trudeau went up to Xi during the G20 welcoming ceremony on Tuesday and the two had a brief conversation.
"Soon after, Reuters, citing a person in the Canadian government, said that Trudeau raised serious concerns about so-called actions of Chinese interference," Mao told a regular media briefing, referring to a report that day about the conversation between the two.
The video captured a rare candid moment for Xi, whose image is carefully curated by Chinese state media.
Trudeau responded to Xi's criticism of the leak at the time by saying: "In Canada we believe in free and open and frank dialogue and that is what we will continue to have, we will continue to look to work constructively together but there will be things we disagree on."
Although the incident received extensive publicity in foreign media, China has not reported on it, and the foreign ministry's published transcript of a briefing on Thursday that included four questions about the incident omitted any mention of it.
The presidents' conversation brought to light the heightened animosity between the two countries that has existed ever since Meng Wanzhou, a top executive of Huawei Technologies, was detained in 2018 and two Canadians were subsequently detained in Beijing on suspicion of spying. Later, all three were freed.
After Trudeau accused China of interfering "aggressively" in Canada's elections, tensions have risen once more this month.