Biden discusses illegal migration and drugs with Mexican President Lopez Obrador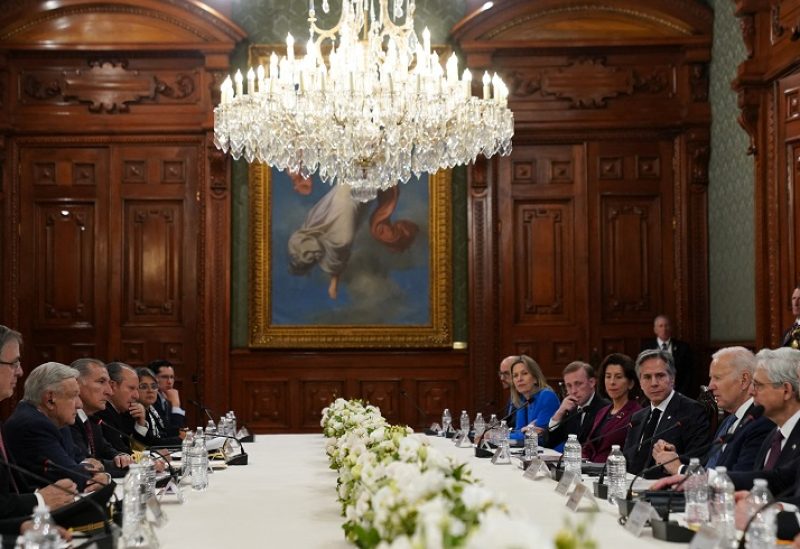 With illegal migration and drugs on top of his agenda , US President Joe Biden met with his Mexican counterpart Andres Manuel Lopez Obrador on Monday. Biden is in Mexico for the first time as president where he was scheduled to meet Lopez Obrador and also hold three-way talks with Canadian Prime Minister Justin Trudeau at what is dubbed the "Three Amigos" summit.
The two reaffirmed their commitment to use "innovative approaches" to deal with irregular migration, the White House said in a readout.
"President Biden and President Lopez Obrador also reaffirmed their commitment to address the root causes of migration."
While Biden called Mexico a true partner, Lopez Obrador assumed a non-conforming tone when the former brought up the issues.
Biden stressed that one of his biggest priorities was discussing "the plague of fentanyl, which has killed 100,000 Americans so far". Notably, the often-deadly opioid is smuggled across the border by Mexican drug cartels.
At the start of the talks, Biden raised the issue of migration, saying, "how we can tackle irregular migration, which I think we're well on our way to doing".
Meanwhile, with a hardened tone, Lopez Obrador appealed Biden for a change in US attitudes towards the region.
"It is time to end this oblivion, this abandonment, this disdain for Latin America and the Caribbean," Lopez Obrador said.
Biden took a stand for Washington and said that it had spent "tens of billions of dollars" in the past 15 years alone to help the region.
"The United States provides more foreign aid than every other country just about combined," he said.
"Unfortunately, our responsibility just doesn't end in the Western Hemisphere," Biden added.
On Sunday, while on his way to Mexico, Biden made a strategic stop at the southern US border for the first time as president. He spent several hours in the border city of El Paso, Texas, where he met with US officials and inspected a section of the tall fencing along the frontier.
"They need a lot of resources. We're going to get it for them," Biden told reporters after his visit to a customs post.
Reportedly, a line of migrants, some with children in their arms, were deported from El Paso to Ciudad Juarez just before Biden's arrival in Mexico.
Earlier on Thursday, Biden had announced an expansion of powers to expel people showing up at the border without clearance. However, a legal, strictly enforced pathway will be created for up to 30,000 migrants a month from Cuba, Haiti, Nicaragua and Venezuela.