Blinken meets Palestinian president Abbas in surprise West Bank visit: Palestinian Authority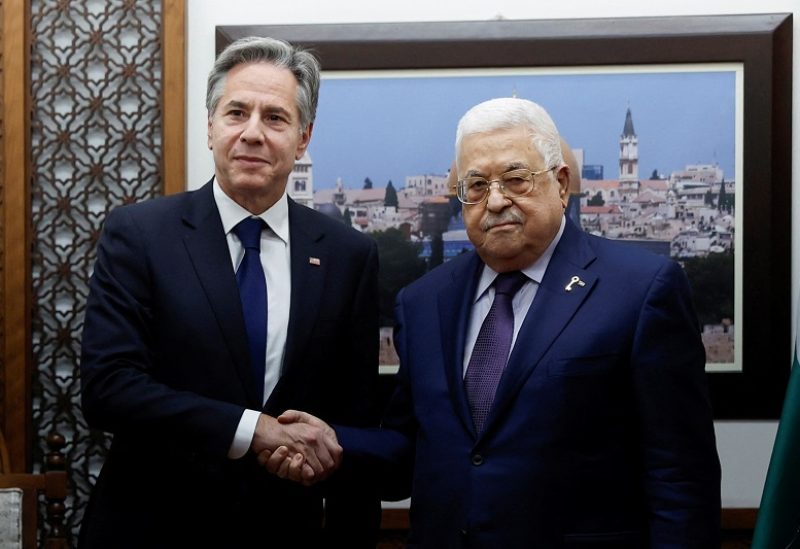 US Secretary of State Antony Blinken conducted an unannounced, high-security visit to the Israeli-occupied West Bank on Sunday. During the visit, he met with Palestinian President Mahmud Abbas, as revealed in photographs released by the Palestinian Authority.
The top US diplomat met with Abbas in Ramallah as global concern grows over rising violence in the occupied territory in tandem with the Israel-Hamas war in Gaza since October 7.
The war erupted after Hamas militants launched an attack on southern Israel that killed 1,400 people, mostly civilians, according to Israeli officials.
Since the outbreak of the war, which has seen nearly 9,500 killed in Israel's retaliatory land, air and sea assault on Gaza according to the Hamas-run health ministry, Blinken has made three trips to Israel and also visited numerous other Arab nations.
But this was his first trip to the West Bank since October 7.
The trip was not announced in advance for security reasons and came after Blinken visited Jordan and neighboring Israel on Friday.
Following a meeting with King Abdullah II of Jordan, Blinken "expressed concern regarding the increasing violence in the West Bank and emphasised the US commitment to working with partners toward a durable and sustainable peace in the region," according to a statement.
More than 150 Palestinians have been killed in clashes with Israeli soldiers and attacks by Israeli settlers since the start of the war, according to the Ramallah-based Palestinian Authority.
Blinken's meeting with Abbas, whose secularist Fatah party is Hamas's rival, came at a time when Washington has heaped political and military support behind Israel.
The United States has advocated that a two-state solution is the only path out of the Israeli-Palestinian conflict.
Blinken recently said the Palestinian Authority should take control of the Gaza Strip which is currently governed by Hamas.
The United States and a number of European and Arab countries, as well as the United Nations, have stated alarm at flaring tensions in the West Bank.
The Israeli army said Friday its forces were "operating against Hamas" notably in Jenin and Nablus, in the north of the territory it has occupied since 1967.
Blinken has advocated for "humanitarian pauses" in his tour of the Middle East, to protect civilians and ease aid deliveries in the densely populated Gaza Strip under bombardment.
He is due to travel to Ankara in Turkiye on Sunday evening.