Blinken visits tiny Tonga as US continues diplomatic push to counter China in the Pacific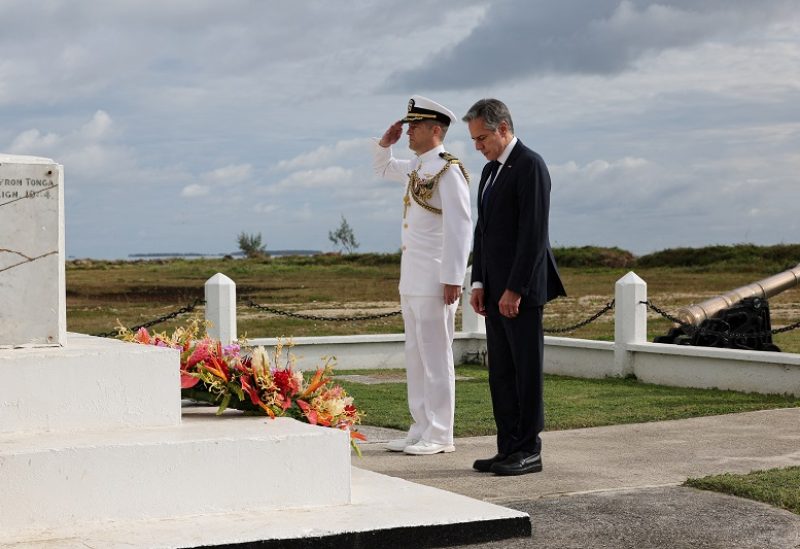 On Wednesday, Antony Blinken, the Secretary of State, paid a visit to the small nation of Tonga. This visit reflects the United States' ongoing commitment to bolster its diplomatic engagement in the Pacific region, especially as China's presence and influence in the area continue to expand.
Home to just over 100,000 people, Tonga last year was the site of a massive volcanic eruption that created a tsunami, killed four people in Tonga and sent millions of tons of water vapor into the atmosphere.
Blinken dedicated a new US Embassy in Tonga, which opened two months ago, and praised the return of Peace Corps volunteers following the end of the COVID-19 pandemic.
Blinken told reporters he had concerns about China's actions in the region including some "predatory" economic activities, its assertion of "unlawful" maritime claims and an increased focus on militarization.
"As China's engagement in the region has grown, there has been some, from our perspective, increasingly problematic behavior," Blinken said.
Tongan Prime Minister Siaosi Sovaleni said he was not concerned about the large amount of money his country had borrowed from China, and in fact this year had started to pay back the debt.
Blinken met with Sovaleni and other officials to discuss the bilateral relationship as well as regional and global issues, said State Department spokesperson Matthew Miller.
"Secretary Blinken outlined how the United States is following through on commitments made by President Biden at last year's historic summit with Pacific Islands leaders to elevate our diplomatic and development presence and engagement in the region," Miller said in a statement.
Miller said the visit also highlighted US efforts to tackle the Pacific climate crisis, including by expanding early warning systems.
Blinken next travels to New Zealand, where on Thursday he will meet with officials and watch the women's World Cup soccer match between the US and the Netherlands. He then travels to Brisbane, Australia, for meetings with Defense Secretary Lloyd Austin and their Australian counterparts.
The trip is Blinken's third to the Asia-Pacific region in the past two months, following visits to China and Indonesia. Second gentleman Doug Emhoff, the husband of US Vice President Kamala Harris, also just finished a visit to New Zealand and Samoa. French President Emmanuel Macron began a trip to the South Pacific this week.
Blinken's travel was announced soon after the State Department notified Congress it plans a massive increase in diplomatic personnel and spending for facilities at new US embassies in the Pacific islands. The update to Congress pointed out that China has permanent diplomatic facilities in eight of the 12 Pacific island nations that the US recognizes and said the US needs to catch up.