Britain's King Charles unveils Eurovision competition stage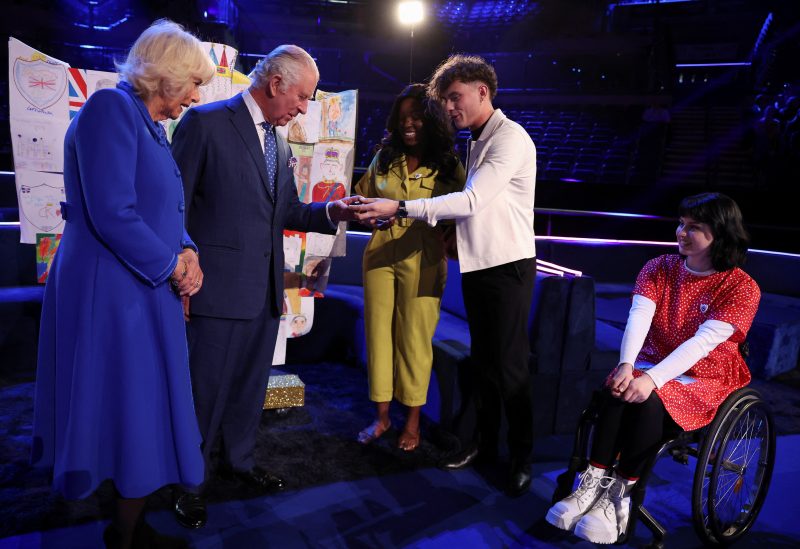 During a visit to the venue in the northern English city of Liverpool on Wednesday, Britain's King Charles and his wife Camilla unveiled the stage for the 2023 Eurovision Song Contest, declaring he will be watching.
In addition to meeting Britain's entry Mae Muller, Charles and the Queen Consort, whose coronation will occur a few days prior to the competition, participated in the recording of a segment for the children's television program Blue Peter.
"We'll be watching with great interest, egging you on," the king told Muller.
Liverpool is set to host the competition, on behalf of last year's winner Ukraine after it was unable to stage the competition because of the Russian invasion. Britain was the runner-up last year.
Following a countdown by onlookers, Charles and Camilla unveiled the competition stage by pressing a large pink button which initiated a series of colourful dancing stage lights and a pulsating beat.
Next month will see a series of celebrations across Britain, with the formal coronation ceremony for Charles at Westminster Abbey on May 6 and a concert the following day after at Windsor Castle.
In February, Britain's government said it would make 3,000 tickets for the Eurovision Song Contest available to displaced Ukrainians and provide 10 million pounds ($12.47 million) of funding to help host the competition.
The song contest will be hosted between May 9 and 13.