Doksuri storm in China: At least 11 dead, dozens missing as Beijing gets battered by rainstorms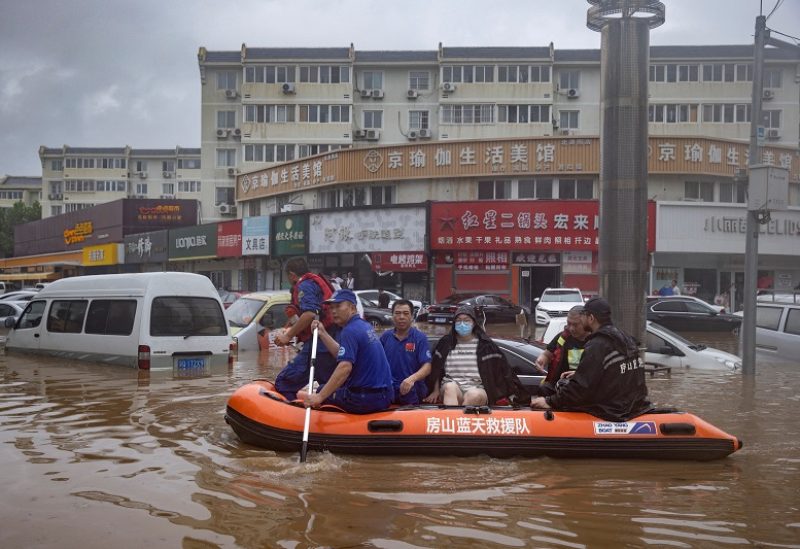 On Tuesday (August 1), Chinese state media CCTV reported that at least 11 people had lost their lives, and 27 others were still missing due to continuous heavy rainfall in Beijing for the fourth consecutive day. The strong typhoon named Doksuri, one of the most powerful to strike the mainland in years, has led to the evacuation of more than 52,000 people from the capital city. Additionally, over 100 mountain roads were closed as a precautionary measure.
The rivers in the country have swollen to record levels, forcing the authorities to use a flood storage reservoir in Beijing for the first time since it was first built, over 25 years ago. A military unit comprising 26 soldiers and four helicopters was pressed into service on Tuesday to deliver hundreds of food packages and ponchos to people stranded in and around a train station in Beijing's hard-hit Mentougou district.
"On July 31, areas in Beijing including Fangshan and Mentougou suffered serious damage from water, causing three trains to get trapped on their routes, and road traffic in some areas was completely cut off," CCTV reported.
The average rainfall in Beijing reached 176.9 mm between Saturday night and Monday afternoon with the maximum recorded rainfall in Mentougou hitting 580.9 mm, according to the state media. Around 150,000 households in Mentougou have no running water, according to the newspaper Beijing Daily. Authorities had dispatched 45 water tankers to offer emergency supplies to the affected population.
Beijing residents have been instructed not to go outside unless necessary, leaving the usually buzzing streets mostly deserted over the weekend.
Both airports in the Chinese capital cancelled more than 200 flights on Monday afternoon, with close to 600 delayed, said a report by Reuters citing data from flight tracking app Flight Master.
Chinese forecasters also warned about the approach of another storm named 'Khanun', which is expected to rapidly gain strength and strike China's densely populated coast next week. While Doksuri got downgraded from a typhoon, the Chinese weather agency upgraded Khanun to typhoon from tropical storm status on Sunday.
According to scientists, China is experiencing these extreme weather phenomena due to climate change. While summers are recording extremely high temperatures, the subsequent months experience heavy rainfall.