Five-month-old baby boy pulled alive from rubble after Israeli air strike on Gaza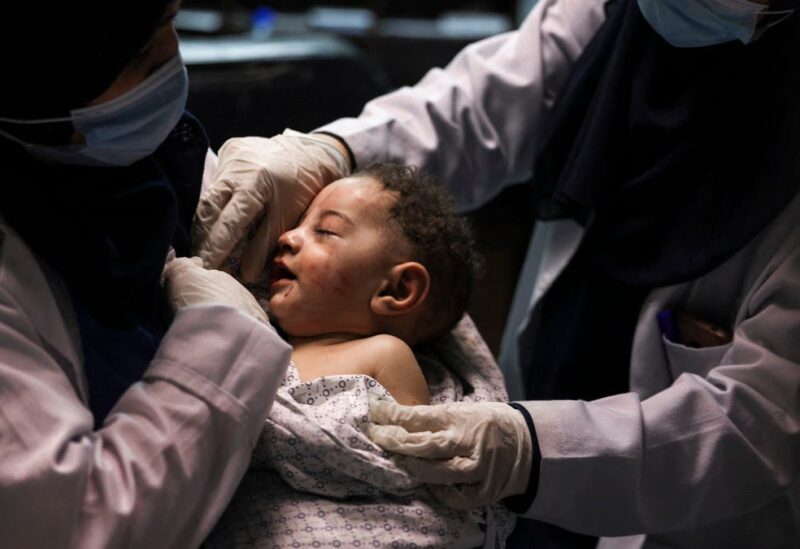 A five-month-old baby boy has been pulled alive from rubble after 10 members of his family were killed by an overnight Israeli air strike on a refugee camp in Gaza City, the Mail reported on Saturday.
Appalling images show nurses holding the boy -who is believed to have been found next to the body of his deceased mother -at Al-Shifa Hospital.
Israel continued to pummel the Gaza Strip early Saturday, when an airstrike on a house in Gaza City killed at least 10 Palestinians, mostly children – the highest tally of deaths in a single hit since the battle flared up earlier this week.
Hamas militants responded by firing more rockets into Israel as their battle entered a 5th consecutive night and a U.S. envoy arrived for talks.
Hady Amr, U.S. Secretary for Israel-Palestinian Affairs, was slated to hold a meeting with Israeli leaders in Jerusalem on Saturday before heading to the occupied West Bank for talks with Palestinian officials.
10 members of a single family – 8 children and 2 women – perished when a 3-storey building in Shati refugee camp collapsed following an Israeli strike.
The United States has been criticized for not doing more to end the rampant violence after it blocked a U.N. Security Council meeting scheduled for Friday.