Floods, wildfires in western Canada displace thousands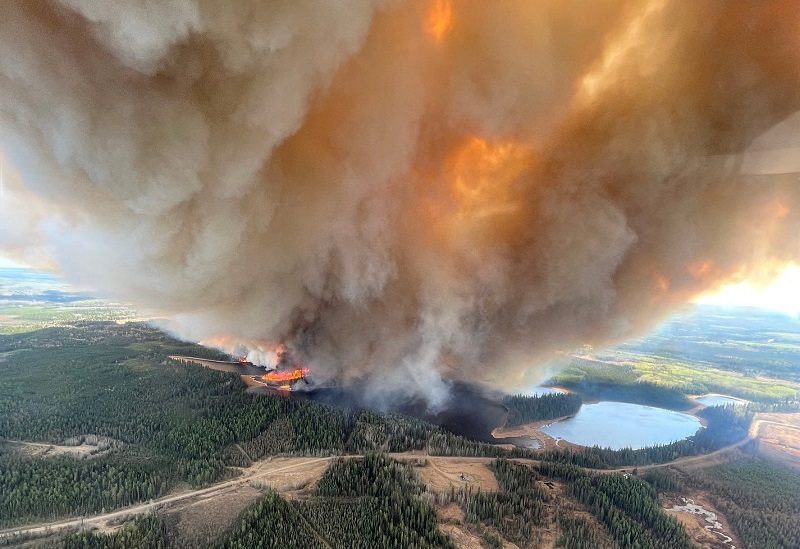 Due to sudden and extreme heat causing wildfires in some parts of Alberta and rapid snow melting leading to floods in British Columbia, numerous individuals were requested to evacuate their residences in western Canada.
More than 13,000 people were ordered to evacuate in Alberta, where more than 70 fires were actively burning. The territory of the Little Red River Cree Nation — one of the most severely hit areas — saw the 1,458-hectare (3,602-acre) fire consume 20 homes and the police station.
Western and central regions of Canada, which are home to large parts of the country's agricultural land, are experiencing "abnormally dry" conditions and "severe drought" in some places, the latest survey from the Canadian government said.
There have already been 348 wildfires in Alberta this year, according to Christie Tucker, an information unit manager for Alberta Wildfire. These fires have burned through 25,000 hectares of land.
"This is significantly more wildfire activity for this time of year than we have seen any time in the recent past," Tucker said in a press conference.
The situation was expected to intensify on Friday, she further said. "It's going to get hotter, it's going to get windier and we are expecting some extreme wildfire behavior. Firefighters are at the ready today for what could be an extremely challenging Day."
In the Province of British Columbia, fires rage on inland while floods batter the southern region where rapidly melting snow from the heat has overwhelmed rivers and burst through banks.
Authorities expect heavy rains and thunderstorms over the weekend, which will likely worsen the situation.
"Severe flooding is possible, and extreme flooding… is plausible, in areas that receive high rainfall," a statement released by provincial authorities said. "Peak river levels are generally expected between Saturday and Monday," it said.
Western Canada has been enduring a cold spring up till last week. The quick rise in temperature — 10-15 degrees Celsius above the average for this time of the year — has led to both fires and flooding.
This is not the first time global warming and extreme weather are wreaking havoc in the region. Two years ago, a "historic" heat dome in British Columbia claimed hundreds of lives and was followed by major fires.