Fury grows in Turkey against Israel, fresh protests planned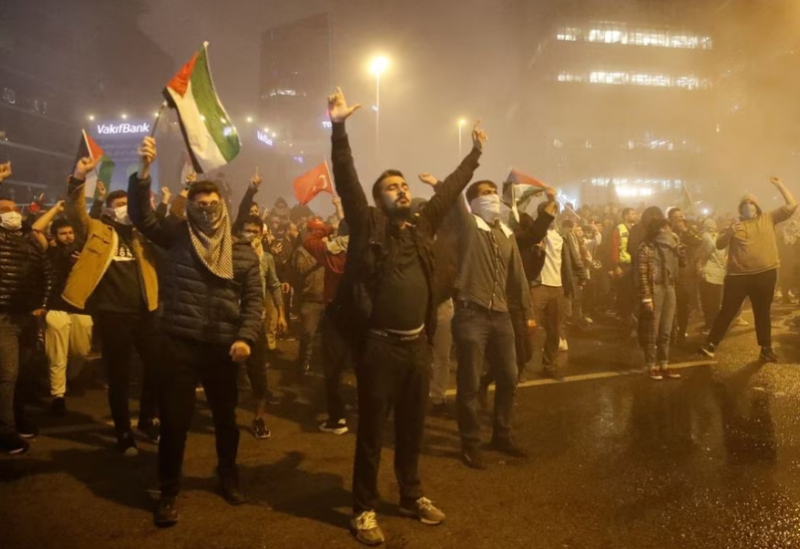 After a bombing at a Gaza hospital that left several Palestinians dead, Turkish demonstrators battled with police into the night, and further gatherings were scheduled for Wednesday.
Palestinian sources said that an Israeli airstrike was the reason behind the explosion at the Al-Ahli al-Arabi hospital. Israel attributed the explosion on a botched missile launch by the Palestinian Islamic Jihad organization, which rejected any involvement.
President Tayyip Erdogan called the blast "the latest example of Israeli attacks devoid of the most basic human values".
Turkey's presidential communications office quickly branded Israel's claim "#FakeNews" on social media platform X.
Overnight Turks marched with Palestinian flags and chanted slogans denouncing Israel in at least a dozen Turkish cities, including outside the Israeli embassy in the capital Ankara.
Police used pepper spray and water cannon to disperse thousands of protesters who tried to enter the compound of Israel's consulate in Istanbul, Turkey's largest city. Five people were detained, the Istanbul governor's office said.
Israel's National Security Council (NSC) issued a warning against travel to Turkey, citing fears that Israelis would be targeted by those angry at the war. It also urged Israeli citizens in Turkey to leave as soon as possible.