Gas station fire in Russia's Dagestan kills 27, including 3 children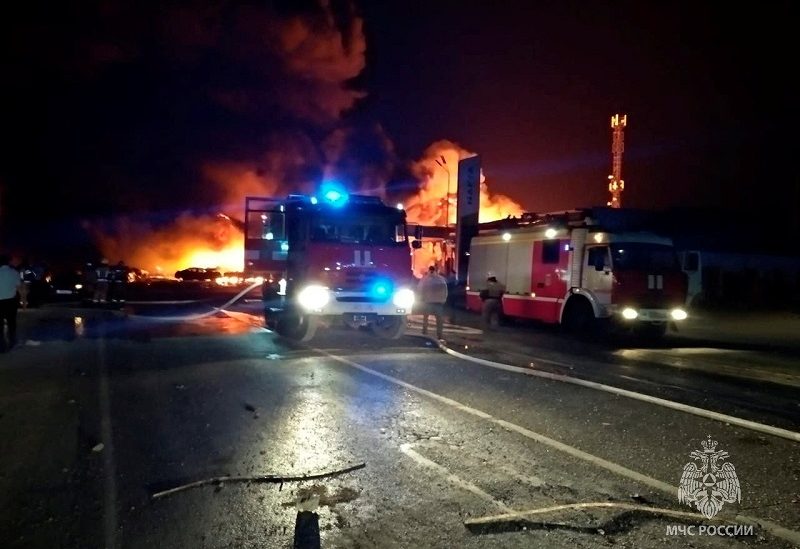 An intense fire engulfed a gas station in the southern Russian area of Dagestan, resulting in the tragic loss of 27 lives, including three children. Reports from media sources, citing the Interfax news agency, revealed this unfortunate incident early on Tuesday. The flames initially originated at an automobile repair shop located along a highway in the capital city of Dagestan, Makhachkala, during the night hours of Monday.
The ferocity of the fire triggered explosions that extended to a nearby gas station, according to officials' accounts. Footage shared online captured the intensity of the situation. It showed a one-story building engulfed in flames.
An individual present at the scene likened the incident to a battlefield, describing the chaos and destruction that ensued as a result of the blaze. "It's like a war here," the witness reportedly said.
The tally of those injured surged to 66 individuals, out of which 10 are reported to be in critical condition, as noted by the RIA news agency, citing Russian deputy health minister Vladimir Fisenko.
Unfortunately, among the wounded, 13 are children, the Dagestani health ministry reportedly said. These grim numbers speak of the widespread impact of the disaster on innocent lives.
Firefighters fought against the blaze for over three and a half hours, struggling to contain its rapid spread over an area encompassing 600 square meters (715 square yards), as per a statement from the Russian emergency service, reported by TASS.
Amid the chaos, an unnamed witness recalled the immediate aftermath of the explosion. "After the explosion, everything fell on our heads, we couldn't see anything anymore," said the unnamed witness, reported AFP news agency.
A video shared on Telegram by the Ria Novosti news agency showed the initial flames erupting from the building, followed by a massive explosion.