German city sends in snowplows after summer hailstorm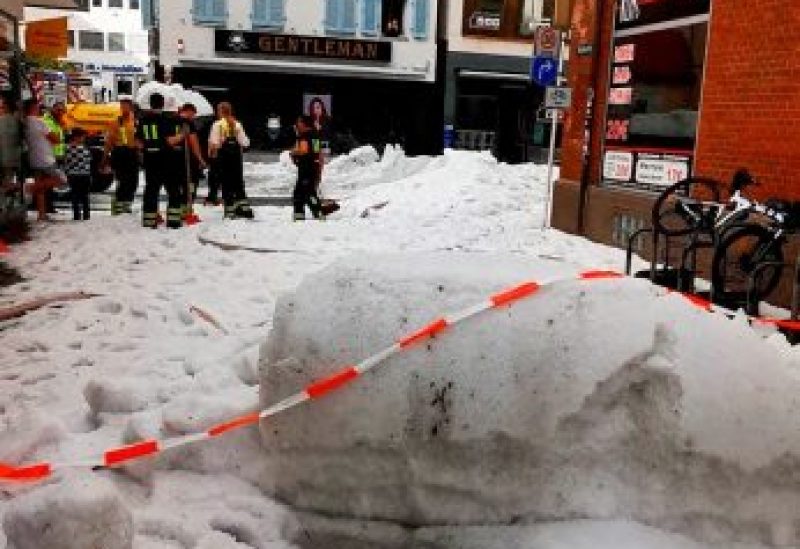 Officials reported that in the southwestern German city of Reutlingen, snowplows were deployed following a severe hailstorm. The city was coated with up to 30 centimeters (12 inches) of ice due to the hailstorm.
A "localized storm with hail and heavy rain" swept over the downtown area on Friday afternoon, a city official told AFP news agency.
The fire brigade said it was called out more than 120 times due to respond to the sudden storm.
"The first operations were people locked in their cars unable to move due to hail on the ground or because the doors [on their vehicle] could no longer be opened," a spokesperson for the emergency response center said.
Snowplows were sent in to clear the streets of large deposits of ice from the hail storm and more than 250 emergency, city and volunteer workers took part in the cleanup operations.
A spokesman for the city said ice and leaves blocked the city's drain system, sparking some flooding of underground car parks, basements and residential buildings.
The Echaz River, which runs through Reutlingen, rose 1.5 meters (5 feet) in just a few minutes and briefly burst its banks nearby, but did not cause any major damage, AFP reported.
Reutlingen lies about halfway between Stuttgart and the Swiss border in the state of Baden-Württemberg.