Germany's Scholz in Bucharest to shore up support for Romania, Moldova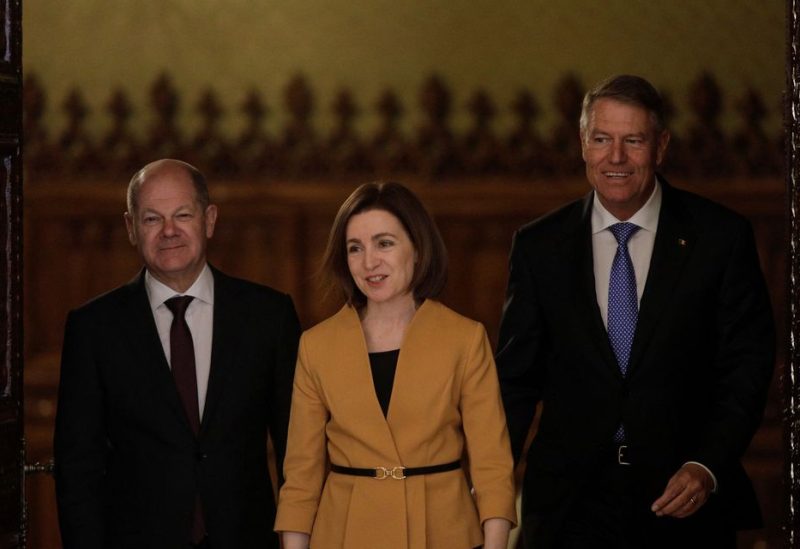 On Monday, German Chancellor Olaf Scholz visited Romania to reaffirm Western support for a crucial NATO member that borders Ukraine, as well as for neighboring Moldova, which has appeared especially vulnerable since Russia's invasion last year.
Moldovan President Maia Sandu, who accuses Russia of fomenting turmoil in her tiny former Soviet country, visited Scholz and Romanian President Klaus Iohannis in Bucharest, seeking support for Moldova's EU entry.
Russia denies causing trouble in Moldova, which is situated between Romania and Ukraine.
Scholz's visit to Bucharest comes a day after German arms maker Rheinmetall announced it was setting up a maintenance and logistics hub in northern Romania on the Ukrainian border to service weapons used in Ukraine.
Scholz praised Romania's willingness to take in refugees spilling over the border from the war in Ukraine, adding: "Germany stands firmly by Romania's side."
Asked why Romania specifically had been chosen to host Rheinmetall's servicing hub, Scholz said other European countries would also open maintenance centres to repair weapons such as tanks and Howitzers deployed against Russian forces.
He underscored German support for Moldova's EU accession but would not be drawn on whether such talks could start as early as this year.
"Moldova is part of our European family," he told reporters after the three leaders held talks. "Moldova does not stand alone but receives massive international support."