Iranian leader visits Indonesia to deepen economic ties amid global geopolitical challenges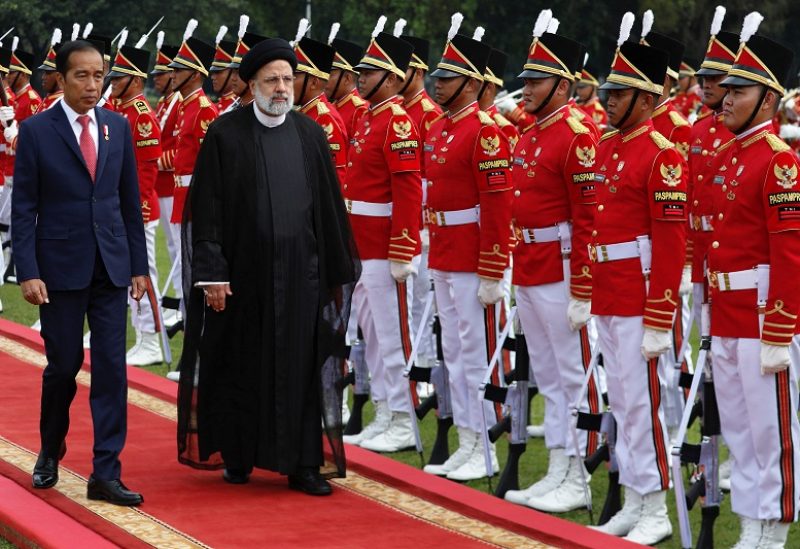 Iranian President Ebrahim Raisi is scheduled to meet with Indonesian President Joko Widodo on Tuesday as part of a two-day visit. The objective of the trip is to enhance economic cooperation between the two Muslim-majority countries, taking place against the backdrop of increased geopolitical tensions on the global stage.
Indonesia's Foreign Affairs Ministry said Raisi is visiting at Widodo's invitation as Indonesia aims to speed up its post-pandemic recovery by increasing its exports.
The visit is expected to deepen Iran's ties with Indonesia as Tehran seeks alternatives to the United States-led Western domination of international affairs and seeks further cooperation after the two nations concluded negotiations on the Indonesia-Iran Preferential Trade Agreement this month, Indonesia's Trade Ministry said.
The ministry's data showed that trade between Indonesia and Iran amounted to $54.1 million between January and March, while the bilateral trade value last year increased by more than 23% to $257.2 million.
Iran was a nontraditional trade partner for Indonesia, said Johni Martha, the director of bilateral negotiations at Indonesia's Trade Ministry. "With this PTA, we hope to widen our market reach and export opportunities in the Middle East and Persia," he said.
Southeast Asia's largest economy is seeking new markets to diversify its export options and to reduce its reliance on traditional trade partners, many of which have been affected by a weakened global economy and geopolitical risks.
In February, Raisi met with his Chinese counterpart Xi Jinping to seek further cooperation following their meeting last September in Uzbekistan, when Xi underscored China's support for Iran.
Both countries have had tense relations with the U.S. and have sought to project themselves as a counterweight to American power alongside Russia.
Washington has accused Iran of selling hundreds of attack drones to Russia for its war in Ukraine and has sanctioned executives of an Iranian drone manufacturer. At that same time, ties between Moscow and Beijing have grown stronger.
While in Indonesia, Raisi is scheduled to lay a wreath at the Kalibata Heroes Cemetery in Jakarta to honor Indonesia's war dead before he meets with Widodo in the presidential palace in Bogor. They will witness the signing of the PTA and other agreements.
Before leaving Jakarta on Wednesday, Raisi will also meet with Indonesia's House Speaker Puan Maharani, religious figures and business people. He'll visit Jakarta's Istiqlal Grand Mosque, the largest in Southeast Asia, and give public lectures in an Islamic university.
Widodo's last trip to Iran was in 2016 while the last official state visit from Iran was in 2015 when Hassan Rouhani attended the 50th commemoration of the Asia-Africa Conference in Bandung.