Jewish New Yorkers stage protest at Statue of Liberty, call for Gaza ceasefire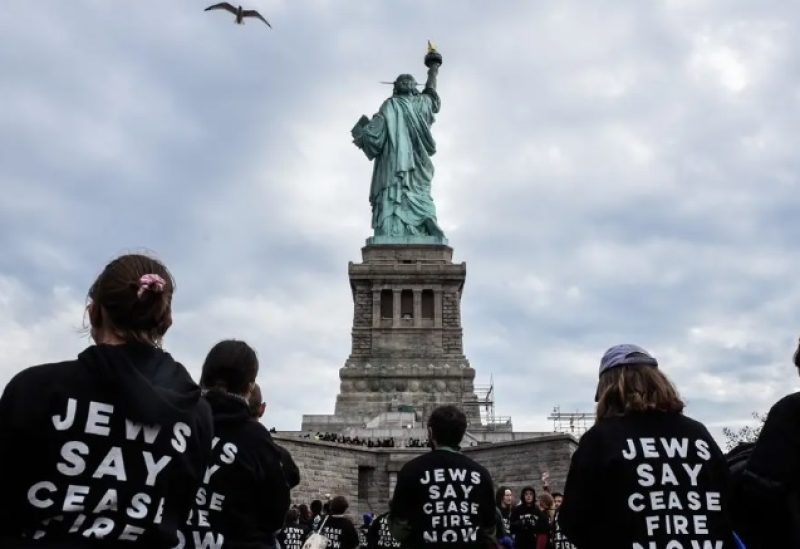 Hundreds of US Jewish activists peacefully occupied New York's Statue of Liberty on Monday to demand a ceasefire by Israel and an end to the "genocidal bombardment" of civilians in Gaza.
Dressed in black T-shirts emblazoned with the slogans "Jews demand ceasefire now" or "Not in our name," the protestors unfurled banners reading "The whole world is watching" and "Palestinians should be free" at the base of New York's iconic landmark.
The huge copper statue sits on Liberty Island at the entrance to New York Harbor.
"The famous words of our Jewish ancestor Emma Lazarus etched into this very monument compel us to take action supporting the Palestinians of Gaza yearning to breathe free," Jay Saper of Jewish Voice for Peace (JVP), the gathering's organizer, said in a statement, referring to the 19th-century activist who helped Jewish refugees fleeing to New York from Europe.
The statement quotes Lazarus's poem "New Colossus," which is engraved on the statue's base as an ode to US immigrants.
Participants from the Institute for Middle East Understanding demanded "an end to Israel's genocidal bombardment of Palestinian civilians in Gaza."