Jordan's King Abdullah to Macron: Urge Israel to end Gaza war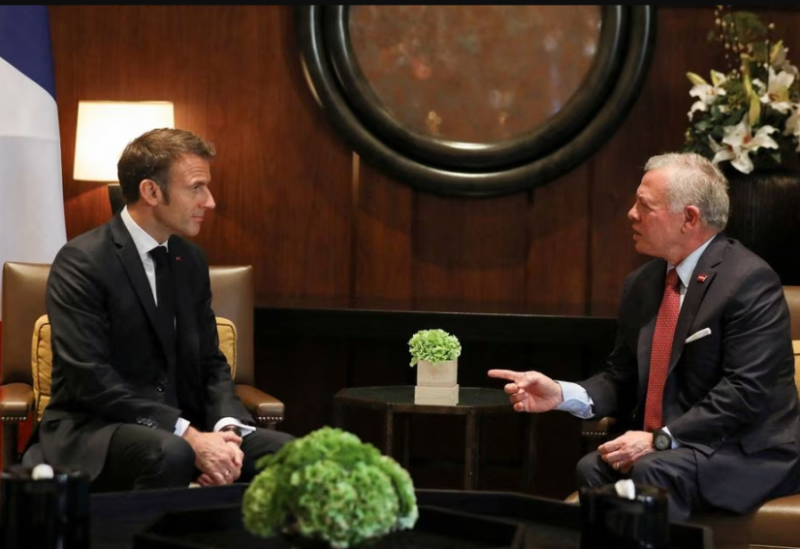 On Wednesday, King Abdullah of Jordan informed French President Emmanuel Macron that it is imperative to put an end to the Israeli-Hamas conflict in Gaza and that failure to do so may result in a "explosion" in the Middle East.
The monarch urged Macron in a statement issued by the royal palace that Israel need to face pressure from other countries to terminate its relentless bombing campaign in the Gaza Strip, which is run by Hamas, and to lift its siege of the 2.3 million-person Palestinian enclave.
Gaza's health ministry said on Wednesday at least 6,546 Palestinians, including 2,704 children, have been killed by Israeli air strikes since a cross-border Hamas rampage into Israel in which 1,400 Israelis, mainly civilians, were killed.
Macron, who arrived in Amman after holding talks on Tuesday with Israeli and Palestinian leaders, discussed with Abdullah ways to end the conflict on the basis of a future Palestinian state co-existing with Israel, the statement said.
World powers say they back the "two-state solution" of Palestinian independence in Israeli-occupied territories, though U.S.-brokered negotiations towards that end have been frozen for almost a decade with Israeli-Palestinian violence worsening.