Long queues, missing baggage, halted travel plans: Aviation chaos in UK, US and Europe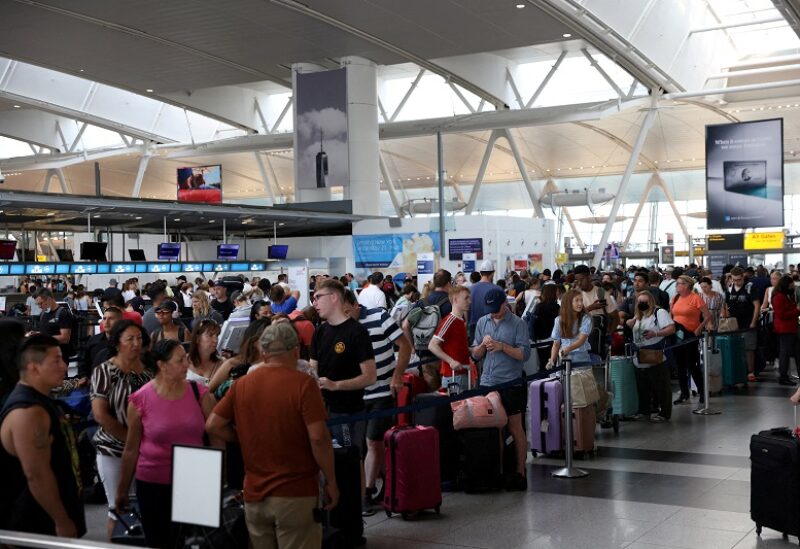 US and a number of European airlines cancelled several hundred flights Saturday at the start of a long and almost certainly messy holiday travel weekend as carriers struggled to staff their planes. At the same time, British holidaymakers are braced for fresh travel chaos across Europe this summer with staff at Ryanair on Saturday becoming the latest to threaten strike action. There is aviation chaos all over the United Kingdom, the United States and Europe.
Passengers stand in line to go through security at Charlotte Douglas International Airport (CLT) in Charlotte, North Carolina, on July 2, 2022. US airlines are bracing customers for what will probably be a bumpy Fourth of July holiday weekend as the industry struggles to manage a surge in travel demand that probably exceeds its current capacity. Flight delays and cancellations created a difficult start for many travellers leaving town for the holiday.
As of mid-day, with Americans gearing up for July 4 Independence Day celebrations, some 600 flights within, into or out of the United States had been cancelled and more than 2,500 were delayed, according to flight-tracking service flightaware.com. The numbers on Friday were awful as well, with 587 US flights scrapped among a global total of 3,060 cancellations, the site said.
In the UK, airlines will this week announce a series of cancellations to summer flights, with reports indicating British Airways is expected to face the brunt of axed flights and Britain's biggest airport, Heathrow, anticipated to be the worst affected.
On Saturday morning a sign of fresh chaos to come was witnessed in Paris, with a fifth of flights cancelled at France's busiest airport amid a dispute over wages and working conditions. Several hours later, the Ryanair crew in Spain announced that they would also pursue strike action to demand better working conditions.
For days, amid a surge in travel as summer rolls in and people sick of cooped up pandemic life look to go places again, horror stories have abounded as travellers got stranded at airports, enduring odysseys to get where they are going. The airline industry was devastated in the early stages of the pandemic as people stayed close to home.
And although federal Covid-19 relief spared airlines from laying off staff, tens of thousands of workers left the industry after carriers urged early retirements. Today's industry has about 15 per cent less staff compared with the pre-pandemic period to handle about 90 per cent of pre-2020 passenger volume, analysts at Third Bridge consultancy estimated.