Manipur clashes leave 60 dead, 35,000 displaced as India ups security measures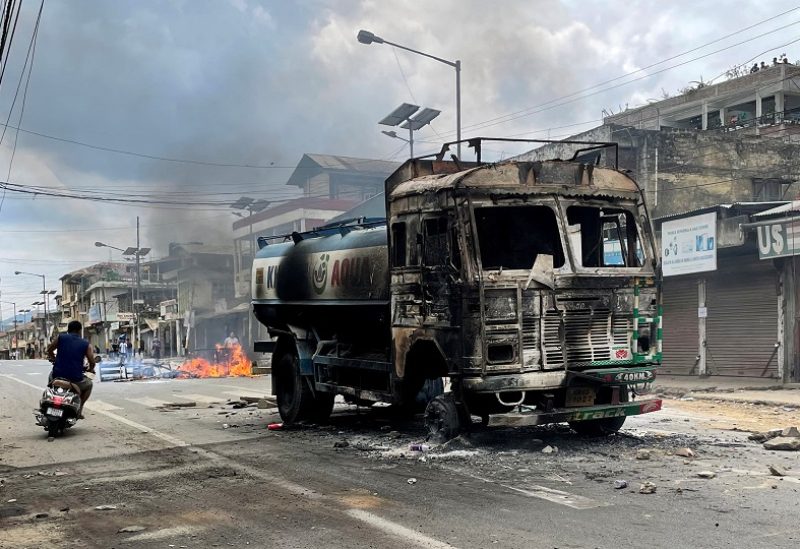 Officials report that security measures are maintaining peace in a remote state in northeastern India where rioting and ethnic clashes resulted in the deaths of 60 individuals and the displacement of 35,000 civilians last week.
Manipur state's chief minister, N Biren Singh, told reporters late Monday that around 230 people were injured and about 1,700 houses were burned by protesters after fierce fighting broke out when members of tribal groups clashed with a non-tribal group over demands of economic benefits and reservation status.
Singh said thousands of civilians, escorted by security personnel, were now returning home after the situation was brought under control by police and army who patrolled the streets and enforced a curfew that is still in place.
He said 1,041 guns and 7,460 rounds of ammunition were looted from security personnel during the violence in which some religious places were also burned by the mobs.
On Monday, India's Home Minister Amit Shah told India Today news channel that the situation in Manipur was under control and appealed to the people to maintain peace.
Violence in Manipur, which borders Myanmar, broke out last week after protests by more than 50,000 Kukis and members of other predominantly Christian tribal communities in Churachandpur and adjoining districts.
They were protesting the majority Meitei Hindu community's demand for a special status that would give them benefits including the right to farm on forest land, cheap bank loans, and health and educational facilities, as well as a specified quota of government jobs.
Minority hill community leaders say the Meitei community is comparatively well-off and that granting them more privileges would be unfair. The Meiteis say employment quotas and other benefits for the tribespeople would be protected.
Two-thirds of the state's 2.5 million people live in a valley that comprises roughly 10 percent of the state's total area.
The Meiteis are Hinduswhile rival groups, including the Kuki and other tribes, are mostly Christian and mainly live in the surrounding hill districts.
Ethnic Muslims constitute about eight percent of the state population.