Marib governor rallies troops for decisive battle in north Yemen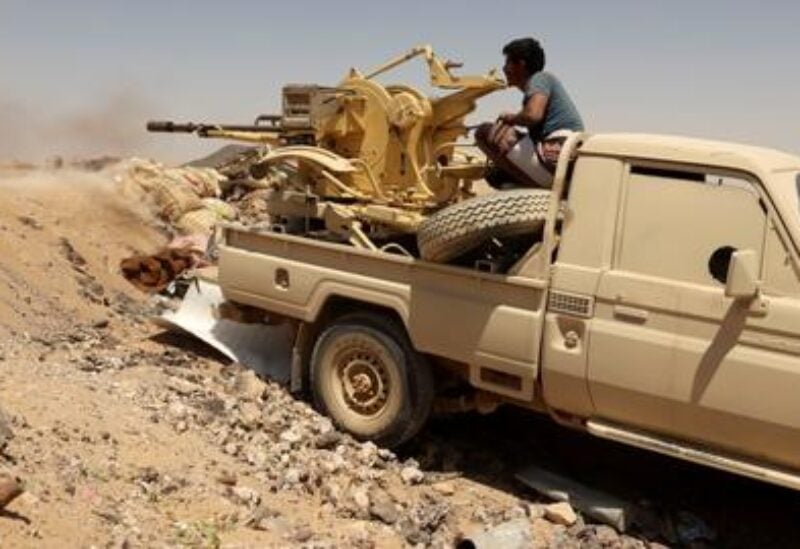 The governor of the battleground Marib province in Yemen rallied troops on Wednesday to defend it against a Houthi advance amid potentially decisive fighting for the provincial capital.
Gov. Sultan Al-Arada vowed that the people of Marib, the Yemeni army and the Saudi-led Arab coalition would defeat the Iran-backed militia.
"We will not allow those who raise pictures of Qassem Soleimani to rule us," the governor said. Soleimani was the commander of Iran's Quds Force who was killed in an American airstrike in January last year.
Yemeni army spokesperson Maj. Gen. Abdu Abdullah Majili told Arab News on Wednesday that the Houthis had been pushed back from government-controlled areas to the west of Marib city, with many attackers killed or injured.
Marib is the Yemeni government's last bastion in the north of the country, and is rich in oil and gas reserves. The Houthis are desperate to capture the province to increase their leverage in eventual peace talks, but loyalist forces are equally determined to defend it.
A senior Yemeni military official was killed and several soldiers were wounded on Wednesday as the Houthis stepped up their shelling of targets in Marib city.
Yemen's Defense Ministry said that Brig. Gen. Abul Ghani Mohammed Salman, director of the ministry's officers' affairs department, died while "confronting" Houthi militia.
A Houthi missile that landed in the Rawda area of Marib province on Wednesday morning caused a large explosion that rocked the city and neighboring displacement camps. A local health official told Arab News that no one was injured.
The Houthis have intensified drone and missile strikes on densely populated Marib as their ground forces press ahead toward the city.
Thousands of Houthis and government troops have been killed in fierce fighting in the province, which began in February when the rebel group renewed a major offensive to seize control of Marib.
On Tuesday, two Houthi military commanders of a major battlefield in Marib were killed in fighting with government forces and in Arab coalition airstrikes over the last seven days.
Meanwhile, the Houthis have continued their air attacks on civilian and energy infrastructure targets in Saudi Arabia.
On Wednesday, Saudi air defenses intercepted and destroyed another armed drone fired from northern Yemen toward the city of Khamis Mushayt in the south of the Kingdom.
The Houthis have rejected a Saudi proposal for an immediate ceasefire and talks on a lasting political solution to the Yemen conflict. Instead, the Iran-backed group have demanded the re-opening of Sanaa airport for unchecked flights between Yemen and Iran.