Moldova cuts Russian embassy staff over 'hostile actions'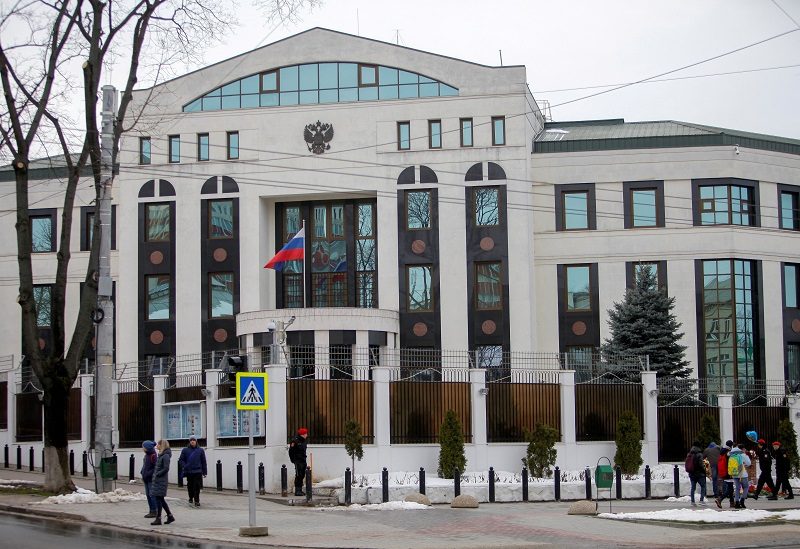 On Wednesday, Moldova announced a significant reduction in the number of Russian diplomats allowed in its capital, Chisinau. The decision comes in response to what Moldova considers years of "hostile actions" by Moscow and concerns raised in a media report regarding possible spying equipment installed on the rooftop of the Russian embassy.
Relations between Russia and Moldova, once part of the Soviet Union, have reached new lows after President Maia Sandu strongly condemned Moscow's invasion of neighbouring Ukraine and accused Russia of plotting to overthrow her.
"We agreed on the need to limit the number of accredited diplomats from Russia, so that there are fewer people trying to destabilize the Republic of Moldova," Foreign Minister Nicu Popescu said at a cabinet meeting.
Embassy personnel will be cut to 25 from more than 80, the foreign ministry said in a separate statement, bringing Russia's embassy in line with Moldova's diplomatic mission in Moscow.
Russia should implement the decision by Aug. 15, it said.
"For many years we have been the object of hostile Russian actions and policies. Many of them were made through the embassy," Popescu said.
Russian Foreign Ministry spokeswoman Maria Zakharova told a weekly briefing that Moldova's decision would "not go unanswered," calling it "another step in the destruction of bilateral relations" between the countries.
The Kremlin said it regretted Moldova's decision and accused the country's leadership of encouraging "Russophobia".
"Unfortunately, Chisinau is deliberately driving our relations into a very miserable state," Kremlin spokesman Dmitry Peskov told reporters.
Popescu, in his remarks, alluded to a media report by The Insider and television channel Jurnal TV about equipment installed on the Russian embassy's rooftop that could be used for spying.
The report prompted Moldova's foreign ministry to call in Russia's ambassador to provide an explanation. Zakharova said the spying accusation was "a fantasy which has nothing to do with reality."
Russia's ambassador to Moldova, Oleg Vasnetsov, said the embassy needed antennas because it was built at the end of the 1990s. "If telephony and internet worked well, there probably wouldn't be a need for constant upgrades," he said.