Niger junta says France planning strikes to free ousted president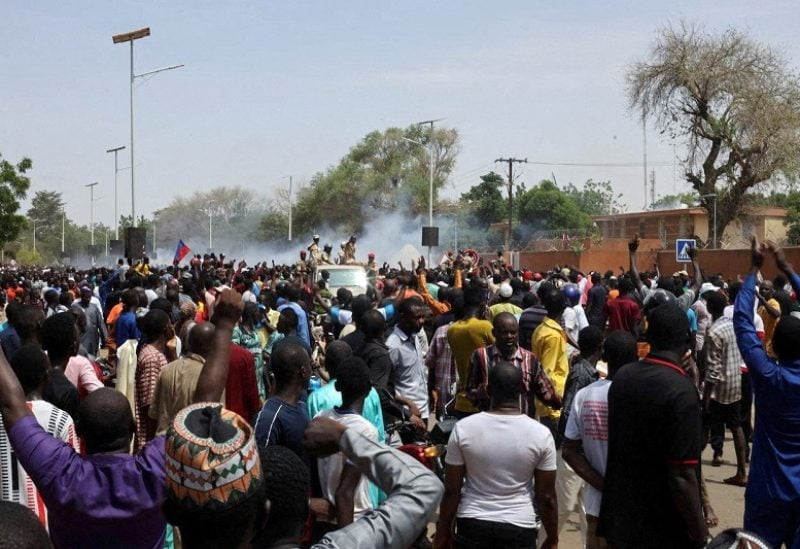 The military junta that took control of Niger last week has accused France, the former colonial power, of planning strikes with the aim of freeing detained President Mohamed Bazoum and reinstating his ousted government.
The French Foreign Ministry did not confirm or deny the accusation but said Paris recognized only Bazoum as a legitimate authority in the West African country and was focused on protecting its own citizens and interests there.
The African Union, the UN and other powers including France have condemned the junta's move to oust Niger's elected government, the seventh military takeover in less than three years in West and Central Africa where some countries are increasingly turning toward Russia as an ally.
The report of French plans came a day after West African regional bloc ECOWAS imposed sanctions on the junta and said it could authorize force to reinstate Bazoum, who was locked in his palace by members of his guard on Wednesday.
Chadian President Mahamat Idriss Deby flew to Niger over the weekend to try to mediate, and early on Monday posted what appeared to be the first images of Bazoum since the takeover, showing him smiling and apparently unharmed.
Deby said he had met Bazoum and coup leader General Abdourahamane Tiani to explore ways "to find a peaceful solution," without going into further detail.
In an address on state television, Col. Amadou Abdramane, one of the coup plotters, said the ousted government had authorized France to carry out strikes on the presidency through a statement signed by Bazoum's foreign minister, Hassoumi Massoudou, acting as prime minister.
He did not specify what kind of strikes and did not give any evidence to back up his assertion. Massoudou could not be reached by telephone. The junta previously warned against foreign attempts to extract Bazoum, saying it would result in bloodshed and chaos.
The takeover has also raised concerns about security in the region. French and other foreign troops are stationed in Niger to help the army fight Islamist militants that have spread across the Sahel.
On Sunday, supporters of the junta burned French flags and attacked the French embassy in Niger's capital Niamey, drawing tear gas from police.
The coup leaders, who have named General Tiani, the former presidential guard chief, as head of state, said they overthrew Bazoum due to poor governance and discontent with the way he handled the Islamist threat.
Yevgeny Prigozhin, the head of Russia's Wagner mercenary group last week welcomed the coup in Niger, and said his forces were available to restore order.
The Kremlin said on Monday that the situation in Niger was "cause for serious concern" and called for a swift return to constitutional order.
Germany's foreign ministry said on Monday that the situation was still in flux, and that there was a possibility the coup could fail.