Pope Francis leaves hospital, saying 'I'm still alive'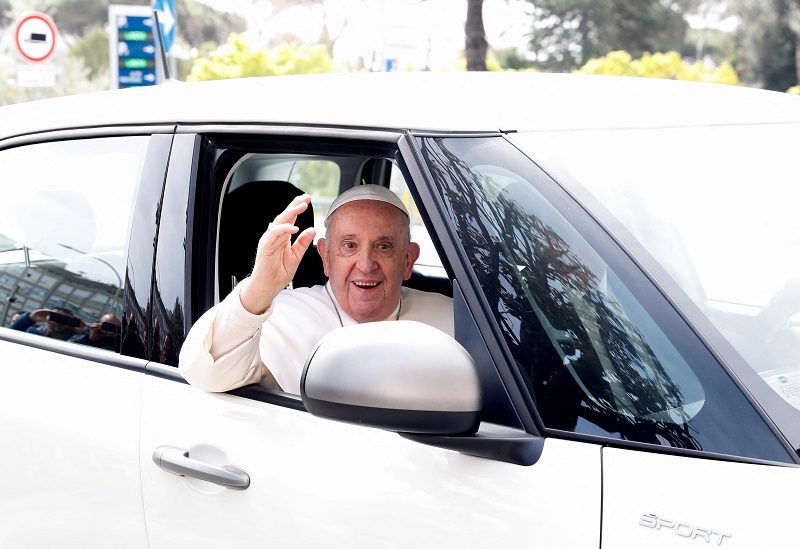 Waving to wellwishers and the waiting media as he was driven away, Pope Francis left hospital to return to the Vatican on Saturday after being treated for bronchitis.
"I wasn't frightened, I'm still alive," he told reporters in a light-hearted comment outside the hospital before he left.
The pope, 86, was taken to Rome's Gemelli hospital three days ago after complaining of breathing difficulties. He has responded well to an infusion of antibiotics, his medical team has said.
The pope, who marked the 10th anniversary of his pontificate in March, has suffered a number of ailments in recent years.
Vatican spokesman Matteo Bruni confirmed on Friday that Francis was expected to take part in this weekend's service for Palm Sunday — a major event in the Church calendar that kicks off Easter week celebrations.
Holy Week, as it is known, includes a busy schedule of rituals and ceremonies that can be physically exhausting, including a Good Friday nighttime procession by Rome's Colosseum.
The dean of the college of cardinals, Giovanni Battista Re, has said a cardinal would help the pope during the week's celebrations and take care of altar duties.
A similar arrangement was put in place last year, when the pope sat to one side during some Easter events due to persistent knee pain, leaving it to senior cardinals to lead the Masses.