Premature Gaza babies evacuated to Egypt as Israeli tanks encircle second hospital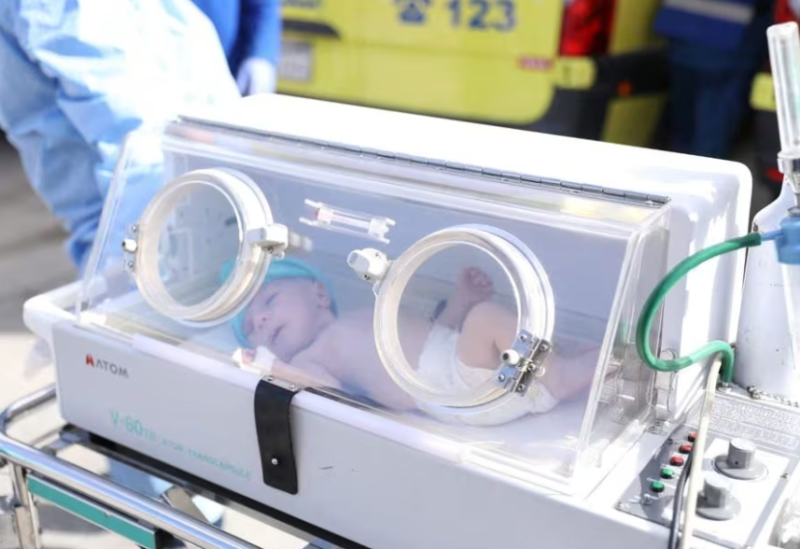 On Monday, the WHO and Palestinian authorities reported that 12 people had died in a different Gaza hospital that was surrounded by Israeli tanks. Meanwhile, a group of 28 prematurely born babies who had been evacuated from Gaza's largest hospital were flown to Egypt for immediate treatment.
The babies were in the Al Shifa hospital in north Gaza; during Israel's military attack on Gaza City, multiple other infants perished there after their incubators failed.
Israeli forces seized Shifa last week to search for what they said was a Hamas tunnel network built underneath. Hundreds of patients, medical staff and displaced people left Shifa at the weekend, with doctors saying they were ejected by troops and Israel saying the departures were voluntary.
Live footage aired by Egypt's Al Qahera TV showed medical staff carefully lifting infants from inside an ambulance and placing them in mobile incubators, which were then wheeled across a car park towards other ambulances.
The babies were transported on Sunday to a hospital in Rafah, on the southern border of Hamas-ruled Gaza, so their condition could be stabilised ahead of transfer to Egypt. The head of the World Health Organization (WHO), Tedros Adhanom Ghebreyesus, said 12 had been flown on to Cairo.
All of the evacuated babies were "fighting serious infections", a WHO spokesperson said.