Qatar's emir meets Egypt's al-Sisi in Cairo for talks on ending Gaza violence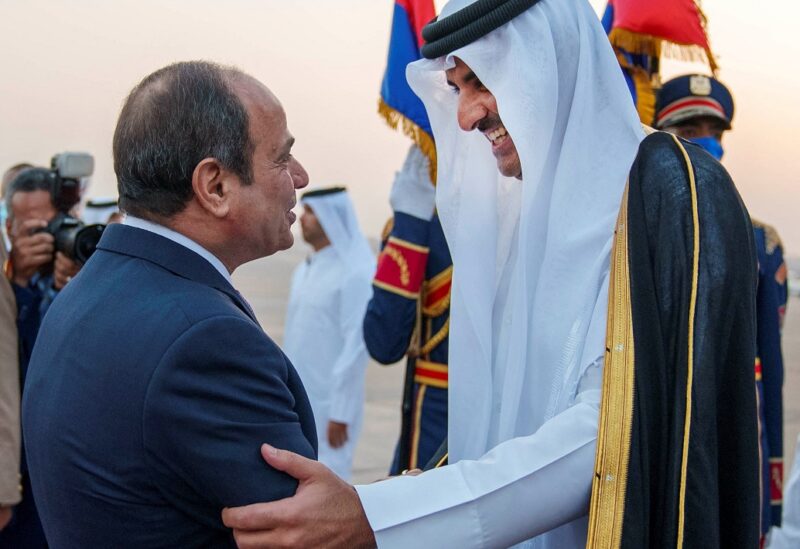 The leaders of Egypt and Qatar met on Friday in Cairo with the aim of mediating the release of Israeli hostages, the provision of humanitarian aid, and a de-escalation of hostilities in the Gaza Strip.
According to a statement from Sisi's office, the agenda for the meeting between Egyptian President Abdel Fattah al-Sisi and Emir Sheikh Tamim bin Hamad Al Thani would include methods to defuse the situation in Gaza and give humanitarian support for the 2.3 million besieged residents of the enclave.
The visit by the emir of Qatar occurs the day after the prime minister of Qatar met with the heads of the Israeli spy agency Mossad and the US Central Intelligence Agency (CIA) in Doha to discuss the terms of an agreement for the release of hostages and a ceasefire between Israel and Hamas.
Qatar is mediating between Hamas and Israeli officials for the release of 240 hostages taken by Hamas on October 7. Israel responded with a relentless bombardment and invasion of Gaza, resulting in over 10,000 deaths, according to Palestinian officials.
Egypt is also involved in negotiations and aid provision, with evacuations through Rafah resuming. The United Nations highlighted a deepening humanitarian crisis as insufficient aid entered Gaza from Egypt.
The United States announced daily four-hour pauses in the north of Gaza and the operation of civilian corridors, though fighting continued.