Resumption of ties between Saudi Arabia, Iran pivotal to regional security: Riyadh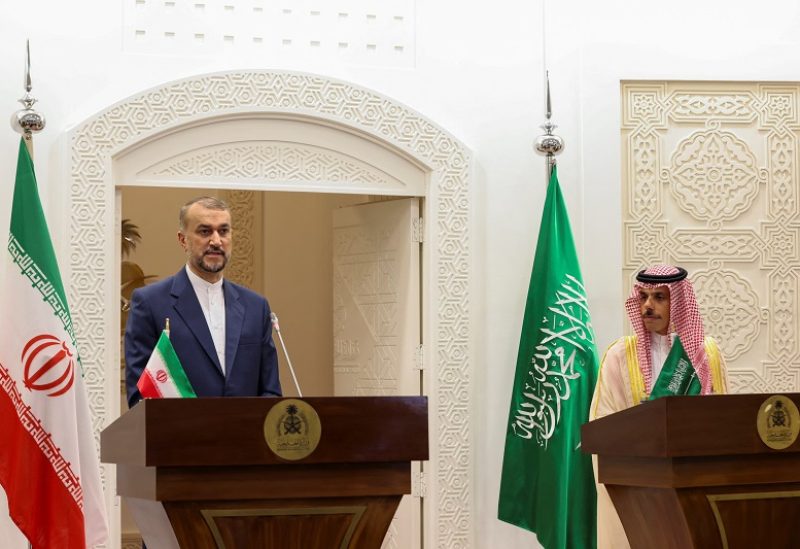 On Thursday, Saudi Foreign Minister Prince Faisal bin Farhan characterized the restoration of diplomatic ties between Saudi Arabia and Iran as a significant milestone for regional security.
Speaking alongside his Iranian counterpart Hossein Amir-Abdollahian in Riyadh during a joint press conference, Prince Faisal said that Saudi Arabia looked forward to strengthening bilateral relations with Iran.
Amir-Abdollahian's visit to Riyadh follows the reestablishment of diplomatic relations between Riyadh and Tehran, brokered by China in March, after seven years of no formal ties.
Prince Faisal said that the Kingdom is keen to activate prior security and economic agreements that were inked with Iran.
He also conveyed Saudi Arabia's gratitude to Iran for its support of the Kingdom's bid to host World Expo 2030.
For his part, Amir-Abdollahian described the discussions in Riyadh as "fruitful."
He said that the Islamic Republic values the role Saudi Arabia plays in the region, adding that the two countries can work together to resolve lingering regional issues.
Amir-Abdollahian said that relations with Saudi Arabia were moving in the right direction and stressed that his country was determined to strengthen relations with the Kingdom.
He added that Iranian President Ebrahim Raisi will visit Saudi Arabia "in due time."
Prince Faisal had made a landmark visit to Tehran in June, where he met with Amir-Abdollahian and President Ebrahim Raisi.
Under the deal signed in March, Riyadh and Tehran agreed to reopen embassies and consulates in each other's territories and implement security and economic cooperation agreements that were signed over 20 years ago.
Saudi Arabia severed ties with Iran in 2016 following an attack by pro-regime protesters on its embassy in Tehran and consulate in Mashhad.