Russia speaks of developing military facilities in Kyrgyzstan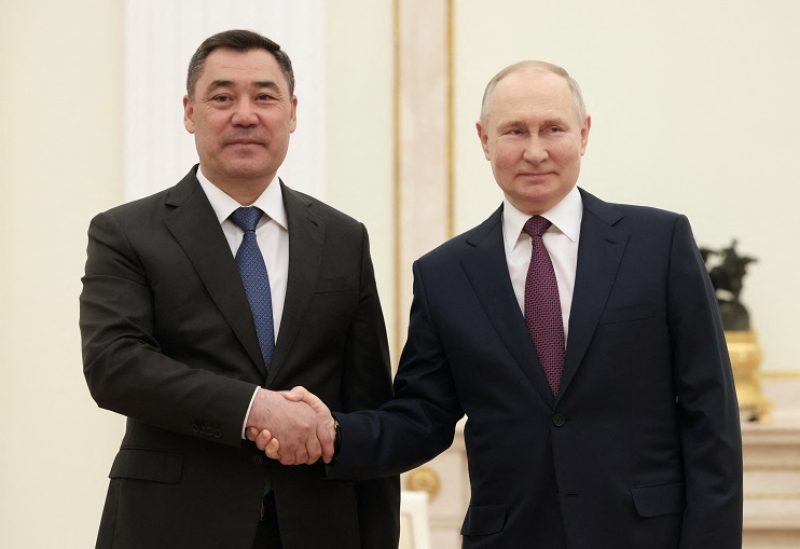 Russia will 'develop' its military installations in Kyrgyzstan, its Central Asian ally. The development has taken place after talks between the leaders of the two countries in Moscow, the Kremlin said on Monday.
"The heads of state emphasised the importance of strengthening the Kyrgyz Republic's armed forces and developing Russian military facilities on its territory," the Kremlin said in a statement.
Kyrgyzstan is a majority-Muslim country with a population of nearly seven million people. It hosts a Russian military base which has an airfield a naval installation on Lake Issyk-Kul and several other sites.
Kyrgyzstan President Sadyr Japarov met Russian President Vladimir Putin in Moscow on Monday, on the eve of Victory Day. It is a Soviet war anniversary. This year, Japarov will be one of several foreign leaders to attend the parade.
Kyrgyzstan is an ex-Soviet republic. Russia and Kyrgyzstan are linked through a Moscow-led military alliance, the Collective Security Treaty Organisation (CSTO).
According to the statement released by the Kremlin, the two countries also expect to "deepen military and technical cooperation" as well as their economic and cultural relations in order to "reach a new level of integration".
The leaders agreed to boost military ties as Moscow's offensive in Ukraine stretches into its second year and the West is mulling new sanctions against Moscow.
Russia will be defeated 'just as Nazism was,' says Zelensky.
Meanwhile Ukrainian President Volodymyr Zelensky again struck a defiant tone and said Russia will be defeated just as Nazism was. His speech was recorded at a war memorial in Kyiv and came just a day ahead of Victory Day in Moscow. Zelensky was speaking on the anniversary of Nazi Germany's surrender in Second World War
"All the old evil that modern Russia is bringing back will be defeated just as Nazism was defeated," Zelensky said in a video at Kyiv's World War II memorial.
"Just as we destroyed evil together then, we are destroying a similar evil together now," he added.
He said he had submitted a bill to parliament to formally commemorate World War II in Ukraine also on May 8, which for years was marked on May 9 like in Russia and other ex-Soviet countries.
It is the latest in a series of steps taken by Ukraine in recent years to distance itself from Moscow, including by renaming streets and towns named after Soviet figures.