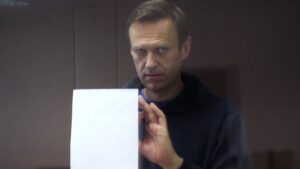 Russian opposition figure Alexey Navalny appeared in court on Tuesday for the third day of a libel trial, after calling a World War II veteran a "traitor." If found guilty, he could be fined up to 950,000 rubles ($13,000).
After closing arguments, the judge postponed the hearing until February 20, when it is expected that a verdict will be handed down. Navalny is also due to appear at a different court case on the same day, where he will appeal a sentence he is already serving for embezzlement.
The activist was charged in June 2020, after a Twitter post in which he called 94-year-old Ignat Artemenko a "corrupt lackey." The veteran, who was born in Belarus and served as a partisan, appeared in an RT video promoting Russia's then-upcoming vote on proposed constitutional amendments. Alongside Artemenko was a group of people from different industries, including actor Ivan Okhlobystin and well-known designer and blogger Artemy Lebedev.
"Oh, here they are, darlings. I must admit that the team of corrupt lackeys looks rather weak. Look at them: this is the shame of the country. People without a conscience. Traitors," he wrote, on Twitter. This post led to charges that he had posted deliberately false information about Artemenko.
In court on Tuesday, Navalny's legal team argued that his words amounted to an insult, but not defamation. They also claimed that the case was politically motivated, aimed at stopping him from running in future elections.
"Navalny did not slander the veteran, but expressed his attitude toward people reading the preamble to the Constitution," his lawyer Olga Mikhailova said. "I believe it is necessary to acquit Navalny."
In response, the prosecution claimed that the opposition figure was out of his mind for thinking a WWII veteran was a traitor to the country.
"Navalny's words border on insanity, which would be an excuse for the defendant, but they are not," the prosecutor said. "What was the defendant hoping for?"
Tuesday was the third day of the trial, with the initial hearings taking place on the previous two Fridays.