Saleh, Bathily discuss Libyan elections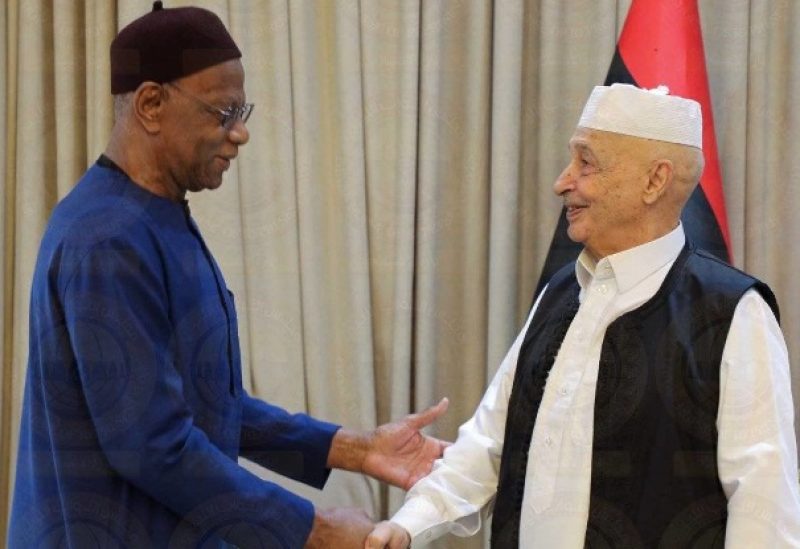 Special Representative of the UN Secretary-General for Libya Abdoulaye Bathily met Saturday with the Libyan House of Representatives (HoR) Speaker Aguila Saleh to discuss efforts to hold elections.
Bathily met with Saleh at his office in the city of Al Qubbah where they discussed the political updates, specifically the efforts to hold the parliamentary and presidential elections.
They also tackled the outcomes of the meetings of the Libyan 6+6 Joint Committee for Preparing Electoral Laws.
Saleh stressed the importance of forming a unified government that would hold the elections, while Bathily urged more efforts and consultation to stage the polls, said a statement from the speaker's press office.
Meanwhile, armed forces in deployed heavily in the capital Tripoli Saturday, apparently to prevent any further protests against the interim Government of National Unity over dismissed Foreign Minister Najla al-Mangoush's meeting with Israel's Foreign Minister Eli Cohen in Italy last month.
Muhammad Takala, the new president of the High Council of State, received a phone call from Hamas leader Ismail Hanieh, who expressed the Palestinians' gratitude for Libya's stances that reject normalizing ties with Israel.
Hanieh hailed the stances of the High Council of State and the official institutions, according to a statement by the Council.
For his part, Takala underlined the firm Libyan stance toward the Palestinian cause.