Saudi Crown Prince begins Asia tour in South Korea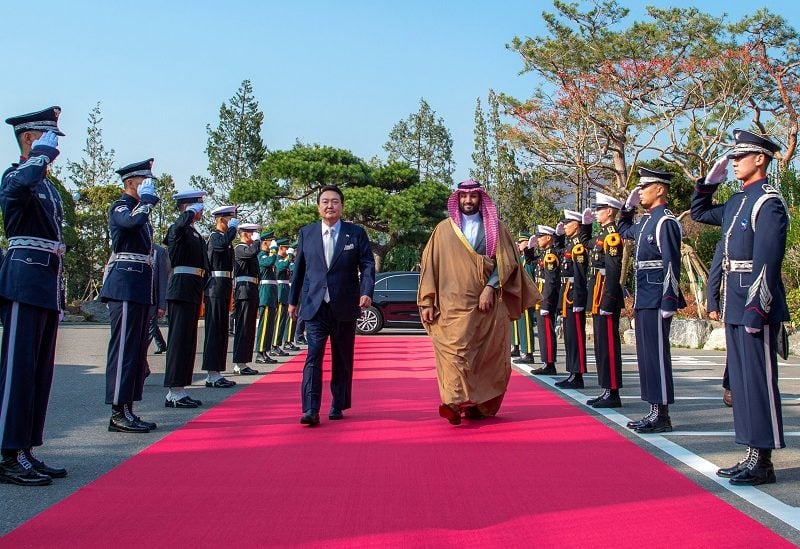 Bilateral relations, prospects for cooperation, and ways to develop and enhance them, were the main topics discussed by Saudi Crown Prince Mohammed bin Salman bin Abdulaziz and South Korean Prime Minister Han Duck-soo in Seoul.
The Crown Prince began on Wednesday an official visit to South Korea, arriving from Indonesia, as part of his Asian tour that includes several countries.
An official reception ceremony was held for the Crown Prince, and the South Korean Prime Minister received him.
The talks were attended by Energy Minister Prince Abdulaziz bin Salman, Minister of State Prince Turki bin Mohammed, Minister of Interior Prince Abdulaziz bin Saud, Minister of National Guard Prince Abdullah bin Bandar, Defense Minister Prince Khalid bin Salman, and Minister of Foreign Affairs Prince Faisal bin Farhan.
The talks were also attended by State Minister and Adviser of National Security Musaed al-Aiban, Minister of Commerce and Acting Minister of Media Majid al-Qasabi, Minister of Investment Khalid al-Falih, Minister of Economy and Planning Faisal al-Ibrahim, the Governor of the Public Investment Fund (PIF), Yasir al-Rumayyan, the Secretary of the Crown Prince, Bandar al-Rasheed, Saudi Ambassador to Korea, Sami al-Sadhan, and the official Korean delegation.
The Crown Prince concluded his visit to Indonesia after chairing the Saudi delegation at the G20 Leaders Summit held in Bali. He was seen off at the Bali Ngurah Rai International Airport by Indonesian Coordinating Minister for Maritime Affairs and Investment Luhut Pandjaitan, Saudi Ambassador to Indonesia Essam bin Abed al-Thaqafi, and several officials.
After his departure, Prince Mohammed cabled Indonesian President Joko Widodo, appreciating the warm reception and generous hospitality he and the accompanying delegation received.
He congratulated the President for the success of hosting the summit and the positive outcomes reached during Indonesia's presidency, stressing the importance of the reached decisions that "we hope to greatly contribute to supporting cooperation among G20 countries and boosting the rates of global economic growth."
The Crown Prince announced that Saudi Arabia would sponsor the restoration of the Islamic Center in Jakarta after large parts of it were damaged by a fire last month.
His announcement affirms his keenness and interest in Islamic centers in all brotherly and friendly countries because of their significant role in raising young generations and spreading Islam's tolerance and message based on peace, moderation, and dialogue.
The Center covers an area of 109,435 square meters and consists of many facilities, including a mosque with an area of 2,200 square meters, which accommodates more than 20,000 worshipers, a research studies center, and a conference hall.
The Muslim World League (MWL) appreciated the Crown Prince's announcement on restoring the Islamic Center.
MWL Sec-Gen Mohammad al-Issa, on behalf of the League and its international academies, bodies, and councils, thanked the Saudi leadership.