Saudi FM meets Iranian counterpart, vow to improve ties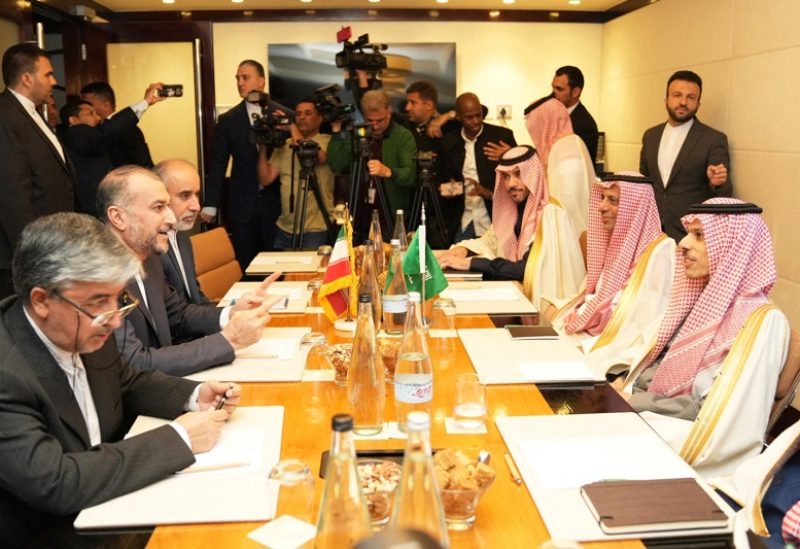 The Saudi Press Agency (SPA) reported on Friday that Saudi Arabia's Foreign Minister, Prince Faisal bin Farhan, held a meeting with his Iranian counterpart on the sidelines of the BRICS meeting in Cape Town. During the meeting, they discussed measures to enhance bilateral relations and the necessary steps for implementing the Beijing agreement, which was signed by both countries in April to normalize their relations.
The meeting concluded with the shared aim to focus on bilateral work in a manner that ensures achieving international peace and security.
Both sides expressed their wish to increase consultative meetings and discuss more ways to increase cooperation to explore prospects for bilateral and multilateral relations.
The meeting was attended by the Undersecretary of the Ministry of Foreign Affairs for Multiple International Affairs, Dr. Abdul Rahman al-Rassi, the Ambassador of the Custodian of the Two Holy Mosques to the Republic of South Africa, Sultan al-Luyhan al-Anqari, and the Director General of the Office of the Minister of Foreign Affairs, Abdul Rahman Al-Daoud, the report added.
Saudi Arabia and Iran reached a deal in March to resume diplomatic relations and re-open their embassies and missions within two months.
On April 6, the two countries announced the resumption of diplomatic relations with immediate effect.
Saudi Arabia cut diplomatic ties with Iran in early 2016 in response to the attacks on Saudi diplomatic missions in Iran.